How it works:
In a pressure blast machine, the abrasive media is contained in a pressure vessel, under pressure at (40 – 100 psi), for use in the process. Once the valve is open to start blasting the media moves from pressure pot, through grit valve. Through hose to start blasting gun/nozzle under pressure. The media has 2-3 times the velocity on impact and would be close to 3 times faster with stripping. Normal blasting pressure is at 35 – 45 psi.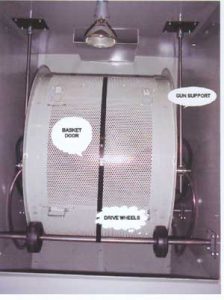 Smaller compact machines are available where utilization and overall cost are a major factor.
Parts tumbling baskets can be of great assistance when running many smaller size parts. It is harder to hold the smaller parts while blasting.
Portable vacu-blast units and blast rooms incorporate pressure "direct pressure" blast systems for impact and speed of work being done. Each of these systems would have direct blast guns attached to pressure pot.
When using a blast gun manifold with multiple guns running at the same time a suction unit is preferred because it is able to run continuously. Pressure units need to stop every so often to recharge the pressure vessel.