A blast cabinet refines an object with a high-pressure blast in a technique called sandblasting. The purpose of sandblasting is to move abrasive materials with such great force that they wear away the rough edges and imperfections of the surface of the metal to create a smooth finish.
The blast cabinet uses abrasive materials like metal shots or glass beads and recycles these materials for more than one session. One of the main advantages of the blast cabinet is that it allows you to complete precision work without significant danger.
The swirling forces of abrasive debris remain trapped within the cabinet, yet the window allows you to see your work inside. Gloves and a blast gun offer precise control over the pressure without risking the particles flying around.
Advanced Deburring & Finishing has a wide variety of solutions to meet your pressure blasting needs. For almost 40 years, we've been serving everyone from Fortune 500 companies to suppliers across industries with surface finish and cleaning technology. Whatever your application, we have the pressure blast system to get the job done right with reliability, competitive pricing and a high standard of excellence.
How Do Pressure Blast Systems Work?
Here's how our pressure blast systems work:
In a pressure blast machine, the abrasive media is contained in a pressure vessel under pressure (at 40 to 100 psi) for use in the process. Examples of this abrasive media include steel shot or grit. Once the valve is open to start blasting, the media moves from the pressure pot through the grit valve and then through the hose to start blasting under pressure using the gun or nozzle. The media has two-to-three-times times the velocity on impact and would be close to three-times faster with stripping applications. Normal blasting pressure ranges from 35 to 45 psi.
The pressure blaster is also helpful when you need to complete the blasting process quickly. It moves three times faster than a comparable suction-based blaster cabinet.
A pressure blast cabinet is an ideal tool for removing contaminants, powder coating or heavy-duty layers of paint. The unique combination of air and abrasive media cuts, etches, abrades, cleans or otherwise changes the condition of the surface of your target piece. The process is a high-quality method of surface preparation.
The pressure blasting process offers several benefits:
Control: Pressure blasting with an abrasive is ideal for preparing a surface. This process is the most thorough approach to cleaning metal. It creates an etched surface perfect for an excellent finish.
Irregularities: The blasting process also gives the user access to clean the hard-to-reach spots of irregularly shaped parts.
Applications: Beyond metal applications, a pressure blaster can etch glass, carve designs in wood or stone, harden manufactured parts and much more.
The pressure blast cabinet is a go-to solution when you need a heavy-duty tool that can move quickly and handle large quantities. That's why the Advanced Deburring & Finishing team recommends these machines when you need to remove layers or want to smooth a rough surface at a rapid pace.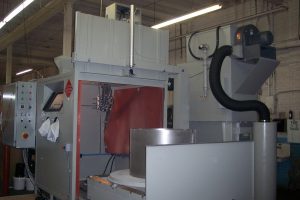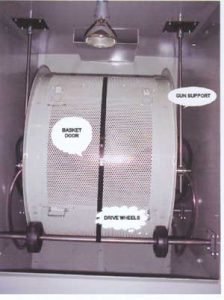 Contact Us for Your Pressure Blast Systems
Types of Pressure Blast Systems
Smaller and more compact pressure blast systems are available for applications where utilization and overall cost are a major deciding factor.
Parts tumbling baskets can be of great assistance when running many smaller-sized parts. It is harder to hold smaller parts while conducting blasting.
Portable vacuum-blast units and blast rooms incorporate "direct pressure" blast systems to enhance the impact and the speed of the work being done. Each of these direct pressure blast systems has direct blast guns attached to the pressure pot. These machines can weigh anything from 65 to 250 pounds, and they come on wheels for easy mobility. They're ideal for removing paint, rust and oxidization from machinery, cars, trucks and steel when you're on the go.
When using a blast gun manifold with multiple guns running at the same time, a suction unit is recommended because it is able to run continuously. Suction units, or injector blast cabinets, use a less intensive method to blast machinery and can work for longer periods of time without a break. Pressure units need to stop every so often to recharge the pressure vessel.
You can consult with the Advanced Deburring & Finish team if you have any questions. We're here to help you find the right type of blast system for your next project.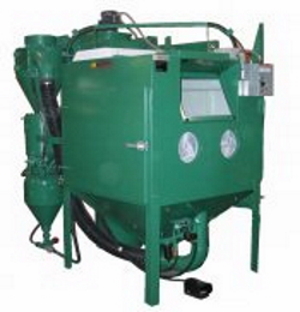 Standard Heavy duty production type  Industrial pressure Blast systems
Cabinet Models:
3636P Series – 36″ wide x 36″ deep x 36″ high (working area)
4836P Series – 48″ wide x 36″ deep x 36″ high (working area)
6048P Series – 60″ wide x 48″ deep x 42″ high (working area)
6060P Series – 60″ wide x 60″ deep x 42″ high (working area)
Baghouse or cartridge type dust collection available at two different cfm reclaimers for specific applications. Pressure units can blast using steel shot and steel grit.
Contact Advanced Deburring & Finishing today for expert recommendations on pressure blast systems and other products.