Abrasive blasting uses high pressure and propelling force to drive an abrasive material against a substrate. This process can be used to shape a surface, smooth a rough surface, remove surface contaminants or roughen a smooth surface. Wet blasting is one of the variations of this process.
Advanced Deburring & Finishing has several wet blasting cabinets and machinery to clean oily, wet and greasy parts. Learn more about our available models and contact us today.
What Is Wet Blasting?
Wet blasting is a cleaning process that uses liquid to enhance a surface's finish levels. Though it was created to mitigate the ban on silica in sand blasting, it has remained a popular finishing method due to its many advantages over the previously used method of sand blasting. However, with wet blasting systems, the abrasive and water mix is more gentle on the part surface because the water acts as a cushion.
Water acts as a buffer in the lubrication of these abrasive particles, resulting in an even flow across the surface. As a result, blasting on a delicate part can be done quickly and easily with a reduced chance of damaging the substrate. The abrasive action is consistent across the surface for an even finish.
Industrial uses for wet blasting include:
General cleaning: Wet blasting can be used to clean many surfaces.
Deflashing: Wet blasting will remove flash, the excess material on a cast, molded or forged product.
Descaling: Wet blasting removes scale and burrs without damaging the substrate material.
Surface preparation: This process can prepare a surface for a bonding coating or hard chrome coating. It can also provide surface texturizing for a final coating.
Remanufacturing: Wet blasting works extremely well in remanufacturing.
REASONS TO USE WET BLASTING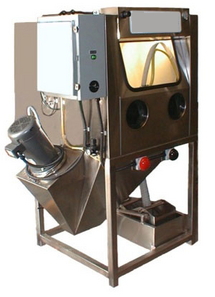 Several features of the wet blasting process make it a popular method:
No static: The wet blasting process does not produce any static.
Dust-free process: Wet blasting reduces the dust produced in the cleaning process.
Low media consumption: Wet blasting has a lower media consumption rate than dry blast.
Compatible with different media: Wet blasting is versatile enough for various media, including extremely fine media.
Use of filtered water: Filtered water for rinsing is required for the wet blasting process.
Ability to work on wet and dry surfaces: With an added heating feature, wet blasting can work on removing greases and oils when wet or dry.
Contact Us for your Wet Blasting System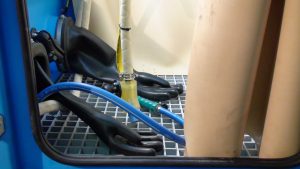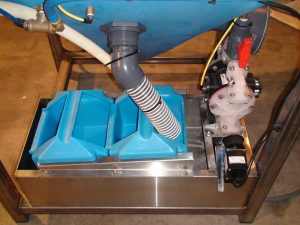 Advantages of Wet Blasting Systems
Here are some of the many benefits of wet blasting:
Excellent surface: You can achieve a smoother, more consistent finish than you would otherwise by using similar processes.
Vast compatibility: Blast clean wet, oily or greasy parts.
Quick start: Eliminate the need for burn-off oven or parts washing before the blast process.
Longevity: Combining a heated chemical bath solution with a high-volume delivery pump, oil skimming or closed-loop filtration provides longevity, which is part of the solution.
Our Standard Units for Wet Blasting
Wet blasting systems from Advanced Deburring & Finishing are as effective as our dry blast units, with final part aesthetics and appearances being very comparable. There are many options available with automation, rotary tables and continuous belt type units with final rinse and blow-off.
Our wet blasting systems include these machine models:
WT-36PP Poly Machine
WT-36SS Stainless Cabinet
WT-50SS
WT-60SS (Turntable at 44″ diameter)
Advanced Deburring & Finishing Sells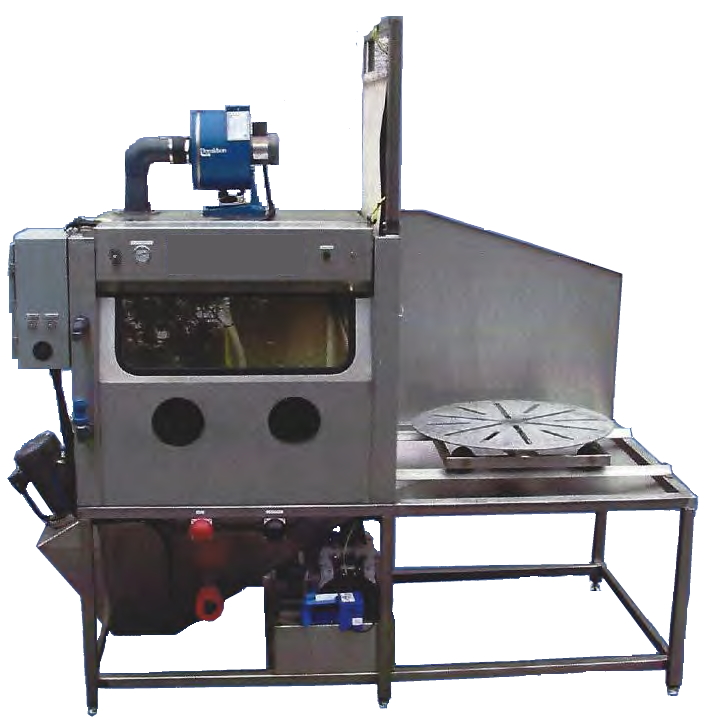 Quality Wet Blasting Systems
Advanced Deburring & Finishing has more than 38 years of experience providing clean parts and smooth substrates. We work with various leaders and suppliers in the automotive, general manufacturing, aerospace, transportation and medical manufacturing industries from our headquarters in York, Pennsylvania, and office in Statesville, North Carolina.
Our professional team is dedicated to solving cleaning and surface finishing requirements for your business. We have a variety of equipment to complete the task and meet your requirements, and we offer consultations for process modifications. We offer new technologies that will improve your operation's efficiency and finances.
Learn More About Our Wet Blasting Units
Advanced Deburring & Finishing has the products you need to keep your parts free of debris, particles and dust. Our inventory features a range of equipment, including deburring machines, vibratory machines, settling units and heavy-duty washers. With clean parts, your paints and coatings will last longer, and your substrate will meet industrial cleaning specification standards.
Contact our product experts today by calling us or using our online contact form. We'll help you better understand your wet blasting options and choose the right solution for each of your jobs and applications.