With the size and scope of today's industries and with so many different parts being made or recycled for reuse, many unique applications and processes call for a customized specialty application or finishing system.
Here are some existing specialty applications and specialty systems that are unique in what they offer as far as finishing processes, production numbers and final results:
Flat finishing and deburring
Process automation
Wheel-type slurry blasting systems
Our specialty applications and systems cover a breadth of industries and services. We can help you streamline your workflow and elevate your final products. Learn about the applications we cover and our specialty products below.
Contact Us Your Specialty Systems
Common Specialty Applications
Many industries and practices require a finishing system. Over the years, we have worked with many different businesses and found the ideal finishing systems for various purposes. Similarly, we can help you find the right one for your specialty application.
Finishing
Finishing improves both a material's appearance and strength. When you choose the right finishing products, you can enhance the quality of your materials and provide long-lasting durability. Whether you are making gears for a production facility or preventing rust on large appliances, the right finishing system can help you do the job.
Some common industries that rely on finishing include:
Metal fabrication.
Food services.
Automotive.
Appliances.
We offer a range of finishing systems to clean, strip and prep metal for any purpose. If you want to better prepare your materials for assembly, Advanced Deburring & Finishing can help.
Deburring
In manufacturing, a burr refers to a rough edge of metal, formed from cutting or shaping the metal. It is necessary to remove burrs for both aesthetic and functional purposes. Some reasons to remove burrs include:
Burrs can cause injury to handlers with their sharp and uneven edges.
Burrs can alter the assembly process and impact the part's sizing.
Burred edges make it difficult to measure the piece correctly.
With our blast media and specialty systems, you can quickly remove the burrs from your metal products. With our innovative technology, you can continue creating and distributing your classic products with improved results all around.
Process Automation
Automation improves your operation's efficiency while saving time and money. With automation, you can increase your productivity with a robust blasting machine and get the desired results consistently. When you automate the blasting process, you can spend more time on other endeavors — such as assembly — while saving manual labor.
When you select an automated system from Advanced Deburring & Finishing, you can expect consistent, high-quality results on each product. We can help you find the perfect system for your operation. Automate your workflow with the right machinery for your specific application.
Our Available Specialty Systems
Our inclusive inventory has different blast systems, letting you find the perfect match for your business or operation.
Wheel-Type Slurry Blasting Systems
Slurry blasting, which is also known as "wet blasting," provides the ultimate cleaning technology to yield results within minutes. Wheel blasting systems utilize a wheel, water and blasting media to cleanse and finish surfaces. With a wheel system, you can control the speed and pressure for custom results.
Slurry blasting is ideal for situations where you need to contain dust and other debris. The water and blasting media create an effective cleansing material that removes rust, paint and excess metal without releasing dust or dirt into the air.
Cleaning Systems
Below is a vibratory deburring machine with material handling/automation and loading/processing/unloading capability with no operator assistance. Here is another deburring machine with the capability of cleaning parts containing a separation deck with a rust prevention rinse.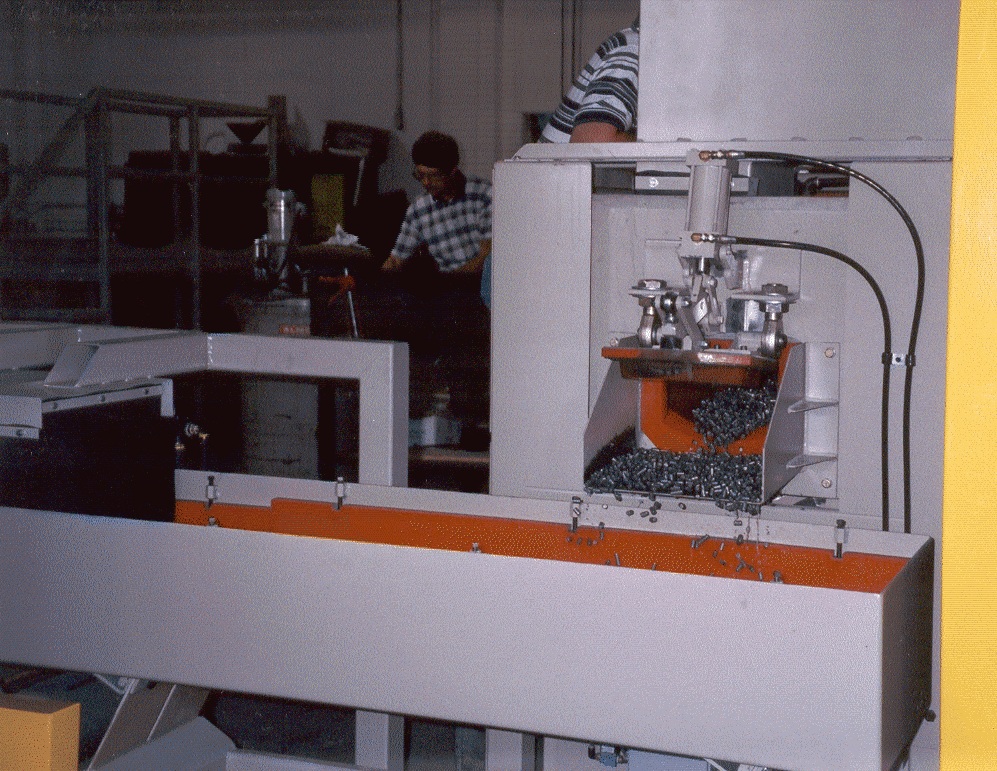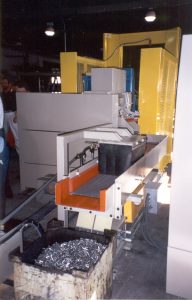 Next is a multi-stage precision cleaning system with an oil coalescer and filtration. It can be fully automatic from start to finish.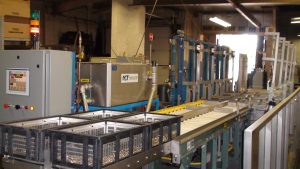 Here is a fully automated three-stage ultrasonic parts cleaning system. Sonic wash, rinse and dry. Platform size: 22″L x 21″W @150 lbs per stage.
Next, we have a very special drive shaft cleaning system. This system removes heavy oil and drawing compounds from part surfaces with oil-free results. This is a special sloped belt spray washer with wash, rinse and blow-off. (Remove/fill 330-gallon tote every 4-5 months.)
Next: Abrasive for impact with dramatic results. (Yes, we said oil and greases.)
Tumble blast or spinner hanger type.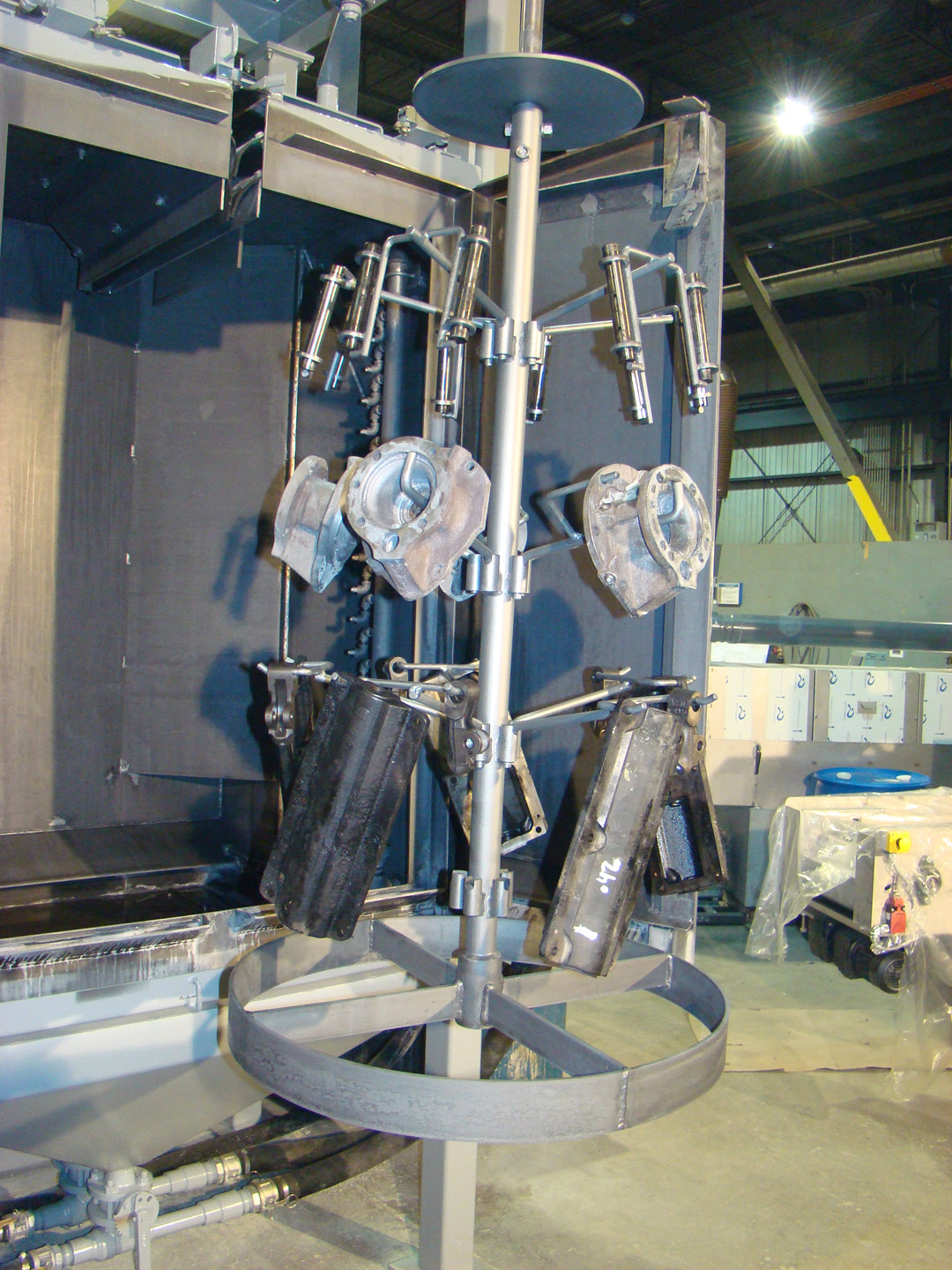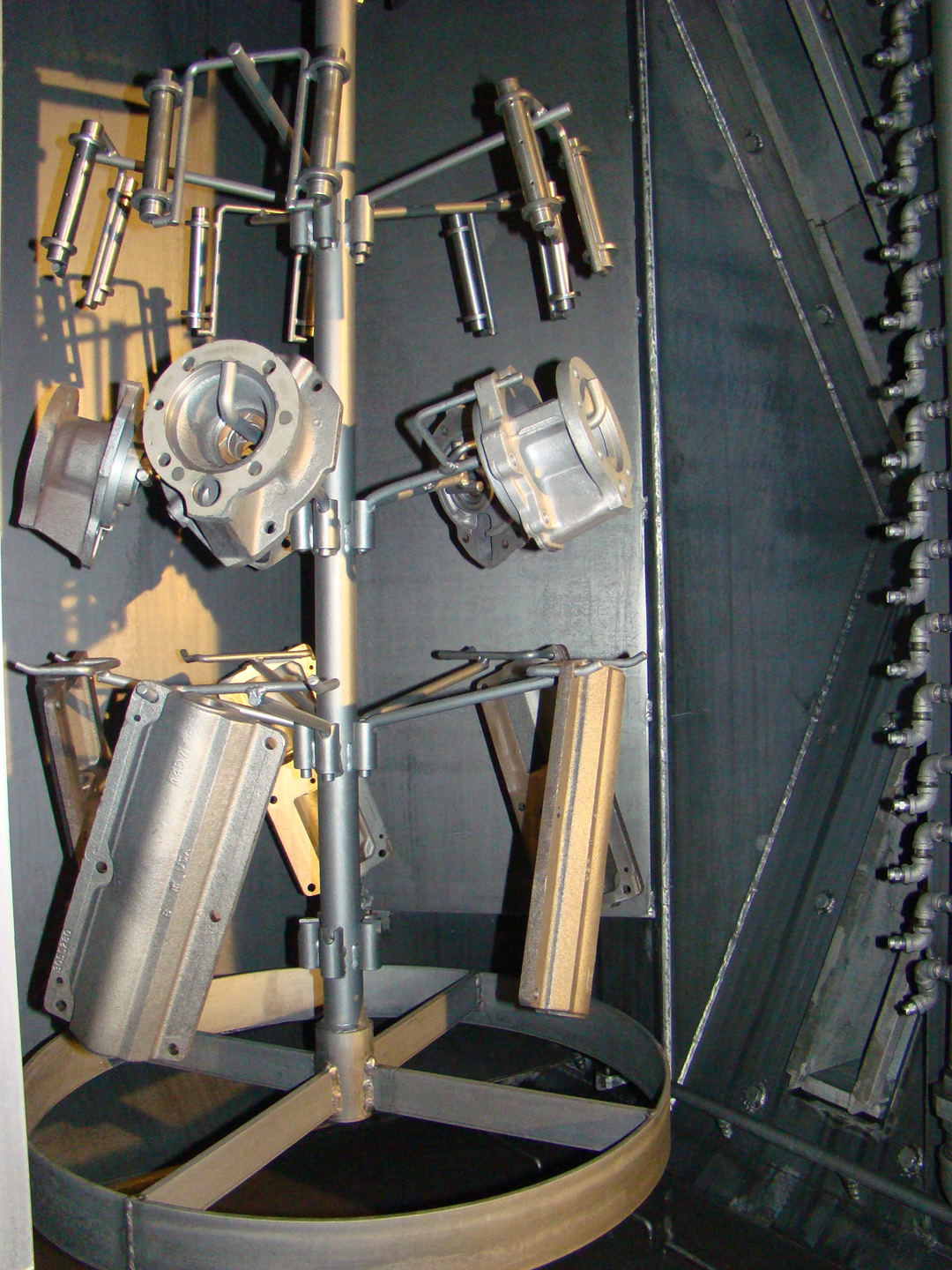 Next: All Pneumatic Immersion Agitating Solvent Cleaning System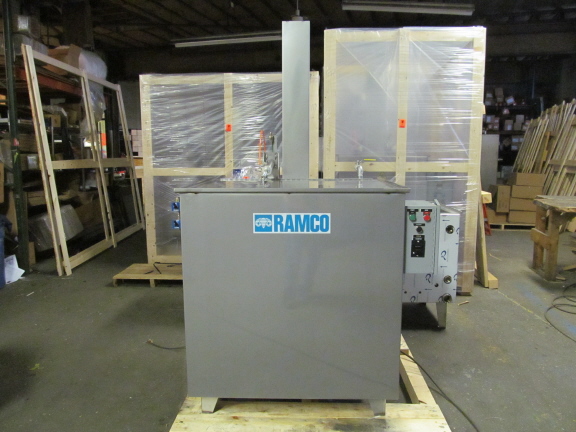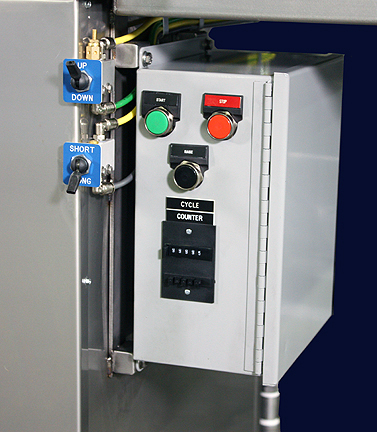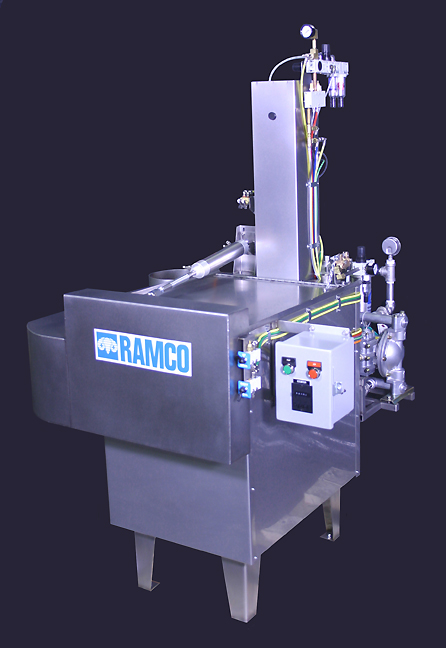 Contact Us for Specialty Systems
Unique applications call for unique measures, and we're the best company to turn to. Get in touch with Advanced Deburring & Finishing for your specialty system today.