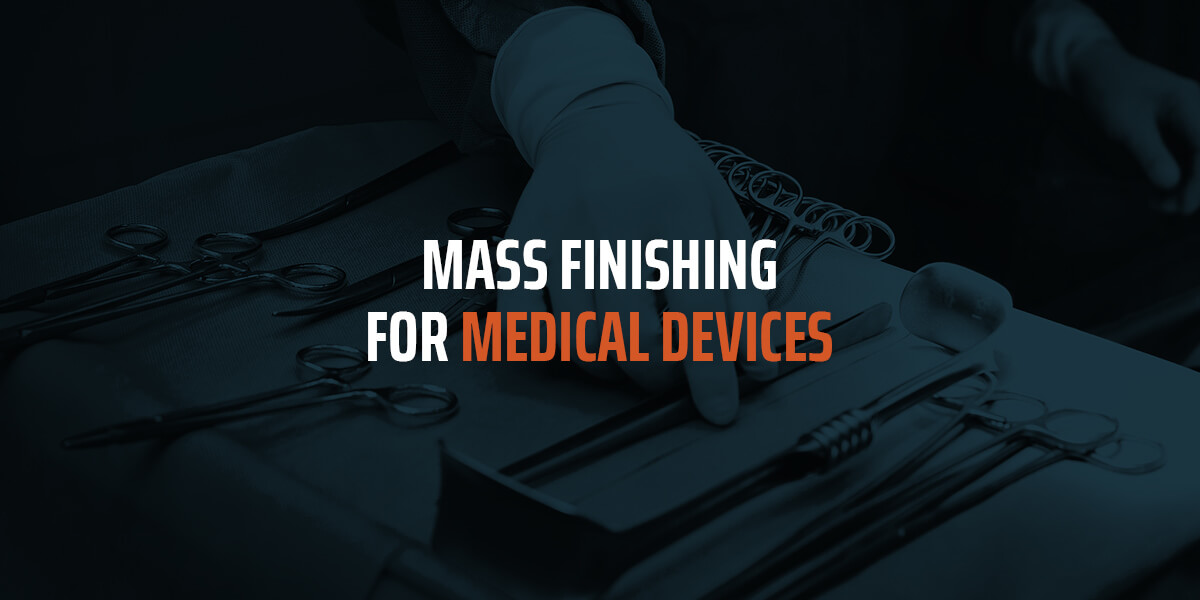 November 28, 2022
Mass Finishing for Medical Devices
Surface finishing is an essential step in product manufacturing. This stage helps prepare your products for shipping and applications. You can use finishing processes to achieve several goals, including providing products with increased protection and improving uniformity. Mass finishing allows you to match these processes to your production volume. When applying this system to your medical device production line, you can protect the product quality and process efficiency for excellent results.
Uses for Mass Finishing in Medical Devices
When considering using mass finishing for your medical device production, you can apply several processes to your existing steps, including:
Cleaning: Medical equipment needs to be clean to prevent bacteria and unwanted particles from entering systems. When you want to ensure end user health and safety with your products, a mass finishing procedure can help provide deep cleaning by removing dirt, dust, debris and microbes from surfaces.
Deburring: Deburring prepares products by grinding them with abrasive media, like steel. This process allows your medical devices to have smooth edges and consistent lines and shapes. When you want to improve uniformity, deburring can create accurate and replicable results.
Polishing: This step provides a shiny, complete appearance to products. When many customers use aesthetics to judge product quality, you can appeal to more people with polishing.
Drying: Many production processes require liquids to create desired results. However, these fluids can cause corrosion if not treated properly. Drying stages of mass finishing can prevent rust and bacteria from forming on your medical devices' surfaces for safer, more reliable tools.
With these mass finishing processes, you can achieve your manufacturing goals and meet production standards.
4 Benefits of Mass Finishing for Medical Devices
When considering adding mass finishing to your manufacturing processes, you'll want to understand the benefits. This production stage can increase efficiency and quality in several ways, providing additional care to companies.
1. Increase Production Levels and Efficiency
Mass finishing allows manufacturing companies to complete finishing stages more quickly. Manual finishing requires more manual labor and time per product. With mass finishing, you can integrate several processes into one piece of equipment, and automated processes can help decrease process time. You can dedicate employee time to other essential functions for increased efficiency around your company while your equipment can get through more products in less time.
2. Ensure Consistency
Mass finishing equipment will treat each product the same each time, resulting in increased consistency and uniformity with your completed medical devices and tools. Manual finishing might result in subtle differences. Some products might end up less clean or with different edges than others. In the medical industry, you must provide exact results for items to meet their applications and functionality. Alterations and inconsistencies in devices can decrease their safety and usability. Mass finishing ensures end users can rely on your products to work as expected.
3. Meet Industry Standards
The medical industry has strict regulations and standards for medical products to ensure health and safety. When medical professionals use these tools to treat patients and perform operations, these standards help them protect their patients and themselves from liability. You can provide the highest quality results and meet industry standards with mass finishing. Because this option can provide more consistent and precise results than manual alternatives, you can better meet quality assurances.
For example, the medical industry values isotropic finishes, meaning each product functions similarly regardless of how medical professionals use it. When you need to ensure properties are the same for each item in a production batch, mass finishing can help you establish standards and processes for increased uniformity.
4. Produce Clean and Safe Products
Mass finishing provides increased care and cleaning for better results. When medical professionals use your products as implants or surgical tools, they want equipment they know will prevent infections and other complications. Mass finishing can help you quickly protect your products from rusting, decreasing health risks for patients and medical professionals.
Additionally, you can efficiently apply other properties at a higher volume with mass finishing. For example, surgeons need implants that can resist plaque buildup. You can use coating and cleaning processes to create products that better meet patients' needs.
Mass Finishing Examples of Medical Devices
You can apply mass finishing when producing several types of medical devices. When you want high-quality results, you can integrate mass finishing into production for the following applications:
Metal joint implants: Your medical manufacturing company can use mass finishing for polishing and producing implants for hips and knees. You can also use this process for bone screws. These products need smooth, clean surfaces to reduce future complications during and after operations. Mass finishing can treat implants to help them resist plaque buildup and rust for increased safety when using these options.
Acrylic implants and devices: While metal devices need extensive finishing, you can also use this process for acrylic products. Hearing aids and implants use different materials than joint implants but have similar health and safety standards and regulations. Mass finishing can ensure you produce consistent products for better applications while creating implants your clients can trust.
Pacemakers: Pacemakers require uniformity to ensure functionality. With such vital functions, they always need to perform at their best. Mass finishing processes with pacemakers can help provide high-quality components and complete products that meet their full life span and applications.
Scalpels and surgical instruments: Surgical tools and instruments must be clean and precise for surgeons to use them in operations. From intensive surgeries to biopsies, doctors rely on consistency with their standard equipment to provide excellent care and desired results. When mass finishing can offer the same process each time, you can build better relationships with your customers and end users for more reliable tools they can trust.
Circuit boards and battery components: Many tools require power and programming. When manufacturing equipment and devices like pacemakers and defibrillators, you can meet industry standards by finishing circuit boards and batteries with mass finishing. Whether you deal in components or complete medical equipment, this process can ensure that products have the highest finished quality for excellent and reliable functionality.
Manufacturers can apply mass finishing to their medical products for better results. When mass finishing equipment can accommodate various product sizes, shapes and materials, you can focus on delivering the best results to your customers.
Use In-House Production of Mass Finishing Equipment for Quality Medical Supplies
When you want quality results and increased efficiency, you need mass finishing equipment available at your production plants. Advanced Deburring & Finishing offers vibratory and centrifugal mass finishing equipment, so you can produce large volumes of medical equipment and devices without sacrificing industry standards or product uniformity. Our comprehensive parts selections allow you to maintain equipment functionality throughout its life span for continual reliability and safety.
Contact Advanced Deburring & Finishing today to discover how our experts can match your manufacturing company with the right medical device finishing equipment for better production processes.