Baking Soda Blasting Systems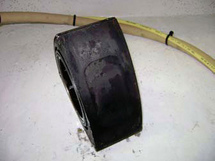 Applications:
Aluminum Parts.
APUs.
Gear Boxes.
Sub Assemblies.
Wheels and Brakes.
NDT test cleaning.
Successful MRO applications Include:
Cleaning and descaling engine and landing gear components.
Composite etching.
Stripping coatings.
Preparation for bonding.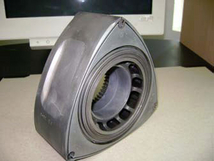 Contact Us for Your Baking Soda Blasting System
Benefits of baking soda blasting systems:
No pitting, peening or crack closure.
Rinse parts clean.
Superior flowability.
Water-soluble.
Easier disposal.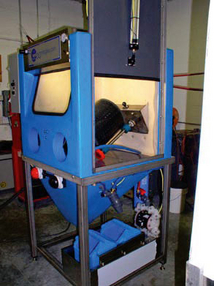 Why Purchase a BAKING SODA BLASTING SYSTEM?
Dust-free operation.
Wet parts with oil or grease can be processed without a prior wash step.
1/4-lb.-per-minute consumption vs. 1-lb.-per-minute with a dry process. This is approximately 25% of the traditional consumption in a dry system.
Able to run traditional round and angular abrasives.
Superior ability to descale and clean, etch composites and shot peen.
Case Study: FAA Certified Repair Station
Application overview: Remove polyurethane paint from magnesium part without removing chromate conversion coating and without damage to part.
Process: ARMEX Maintenance Formula XL at 30 psi in contained cabinet system.
Results: Successfully replaced hazardous chemical process, reduced cleaning time by 50% per part. Eliminated unnecessary costs of chromate recoat. Provided a cleaner, safer working environment. Eliminated hazardous waste disposal cost.
"We're saving money, time and cutting hazardous waste."