Flat parts require a different deburring machine than other parts. If the flat part has burrs on the trailing or leading edges, a standard machine will leave part of the burr on the leading edge, lying horizontally. Leaving the burs on causes a safety hazard and a compromised finish.
High-quality flat deburring machines with multiple heads are the best solution for flat deburring. Advanced Deburring & Finishing is your international authority on flat finishing and deburring. We have several flat deburring machines for your parts finishing needs.
What Is Flat Deburring?
Flat deburring is different from finishing. Deburring removes raised edges and small material pieces to improve the edge quality, and finishing alters the workpiece's surface to remove pitting, scaling and other imperfections.
Flat deburring is accomplished with multihead finishing machines. The abrasive belt removes the primary burr (the vertical standing dross). Since the head is running with the feed, the parts will feed better, and there is a lower chance of kickback, keeping operators safe. For the secondary burrs, a barrel brush will soften and remove burrs on the leading edge. With two barrel brushes running clockwise and counterclockwise, both sides of the part will be completed. All horizontal and vertical burrs are removed.
The benefits of flat deburring include:
Higher quality finishes: Deburring flat parts with high-quality flat deburring machines makes the parts look better.
Improved safety: Flat deburring machines make the process safer because operators will not be performing repetitive motions in the work zone. Once the part is deburred, it is safer to handle.
Better consistency: Using a flat deburring machine makes the part quality highly consistent with each operator. High consistency causes low rework.
Ability to offer more products: An automated machine allows you to deburr more parts faster, increasing your production schedule.
Fladder® Flexible Deburring
The Fladder® Flexible Deburring machine is a perfect all-in-one solution for flat finishing, sanding and deburring. This system employs an entirely new method based on a principle that is fundamentally different from traditional flat finishers. The oscillation process ensures 100% coverage regardless of how the part is placed on the conveyor belt.
This deburring machine has several features. Fladder® Flexible Deburring:
Deburrs parts that have contours.
Smoothens sharp edges without losing definition.
Deburrs parts that have protective foil.
Is ideal for edge preparation, sanding, cleaning, weld dressing, de-slagging and surface finishing.
View our before and after images below to see the different high-quality flat deburring machines can make.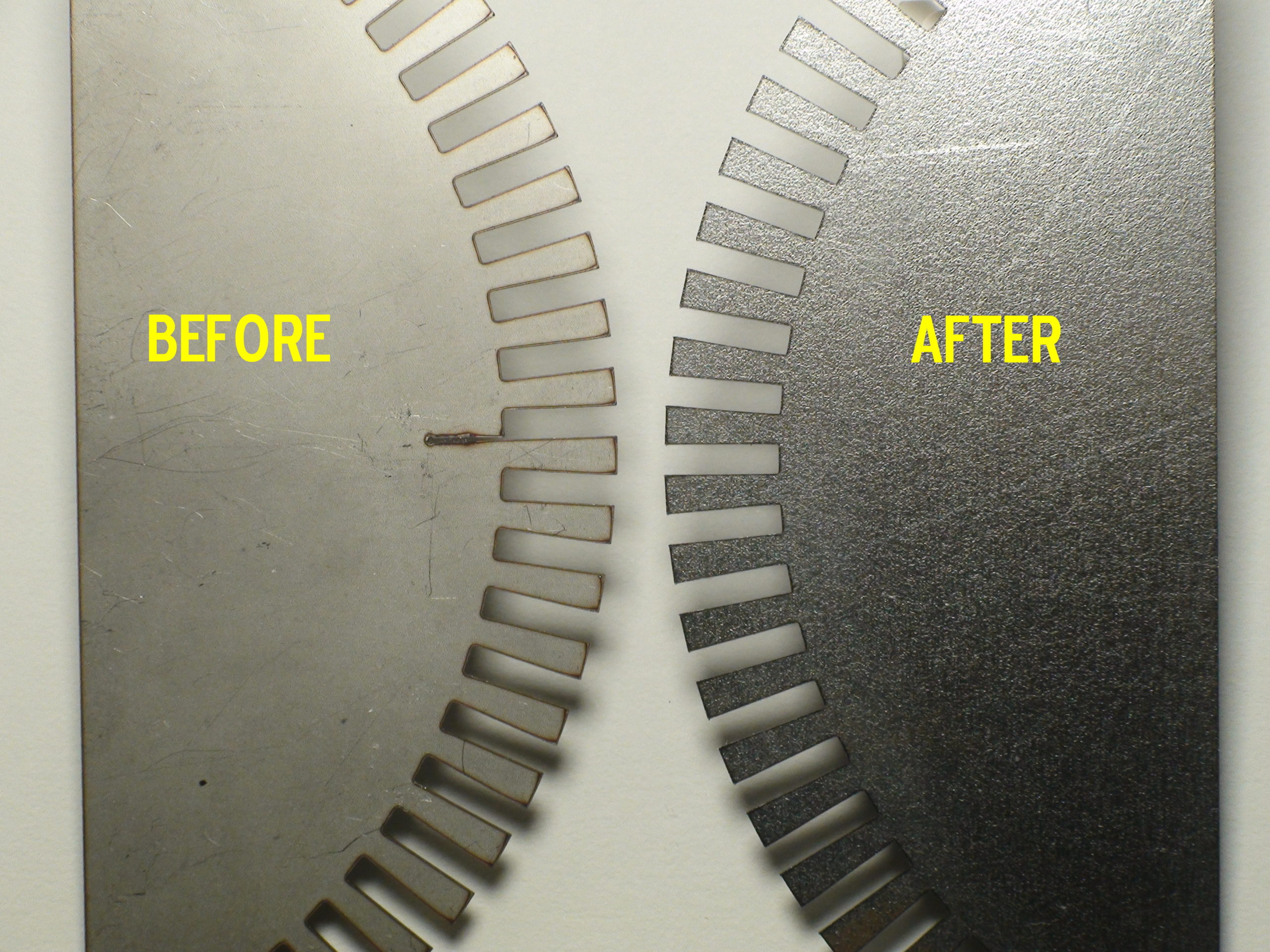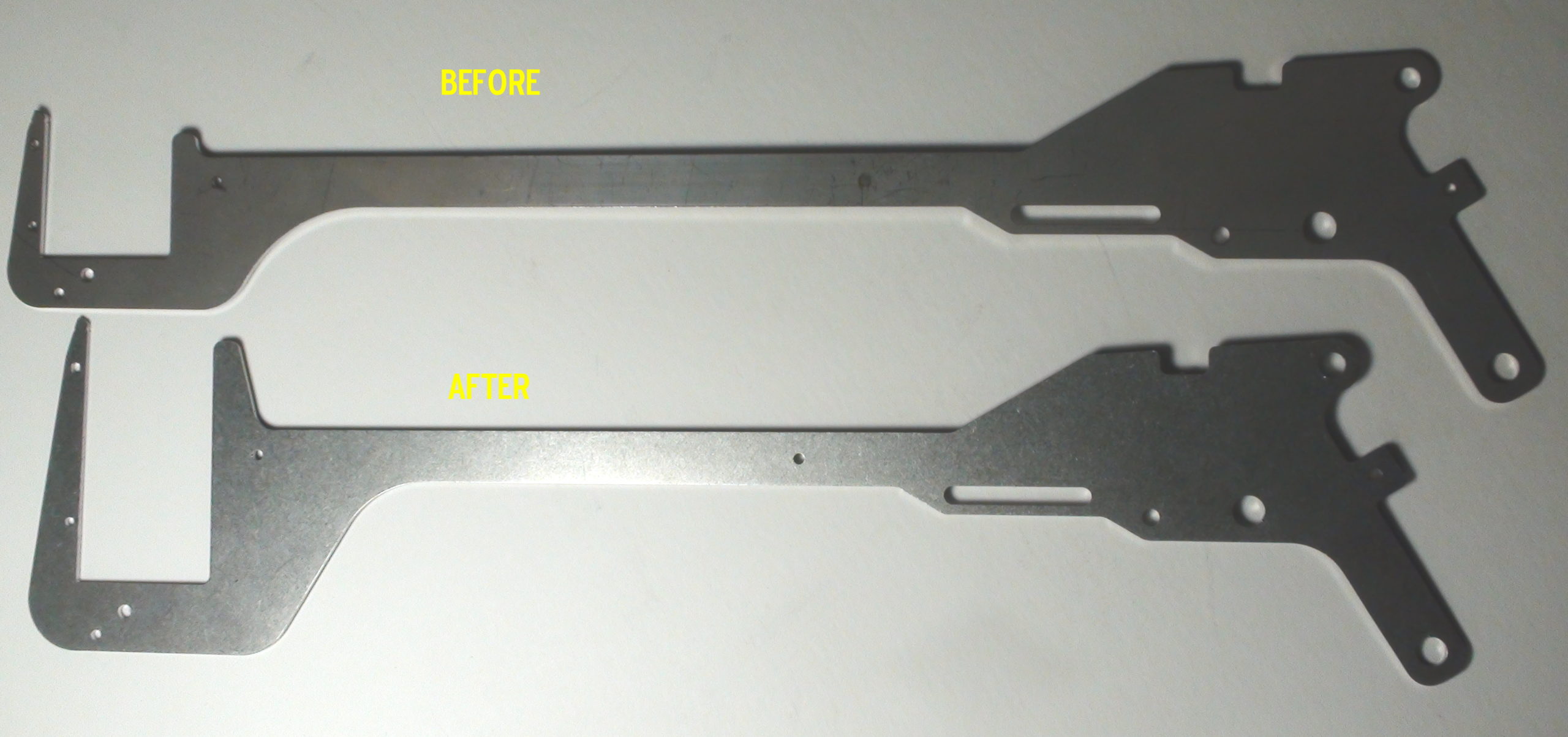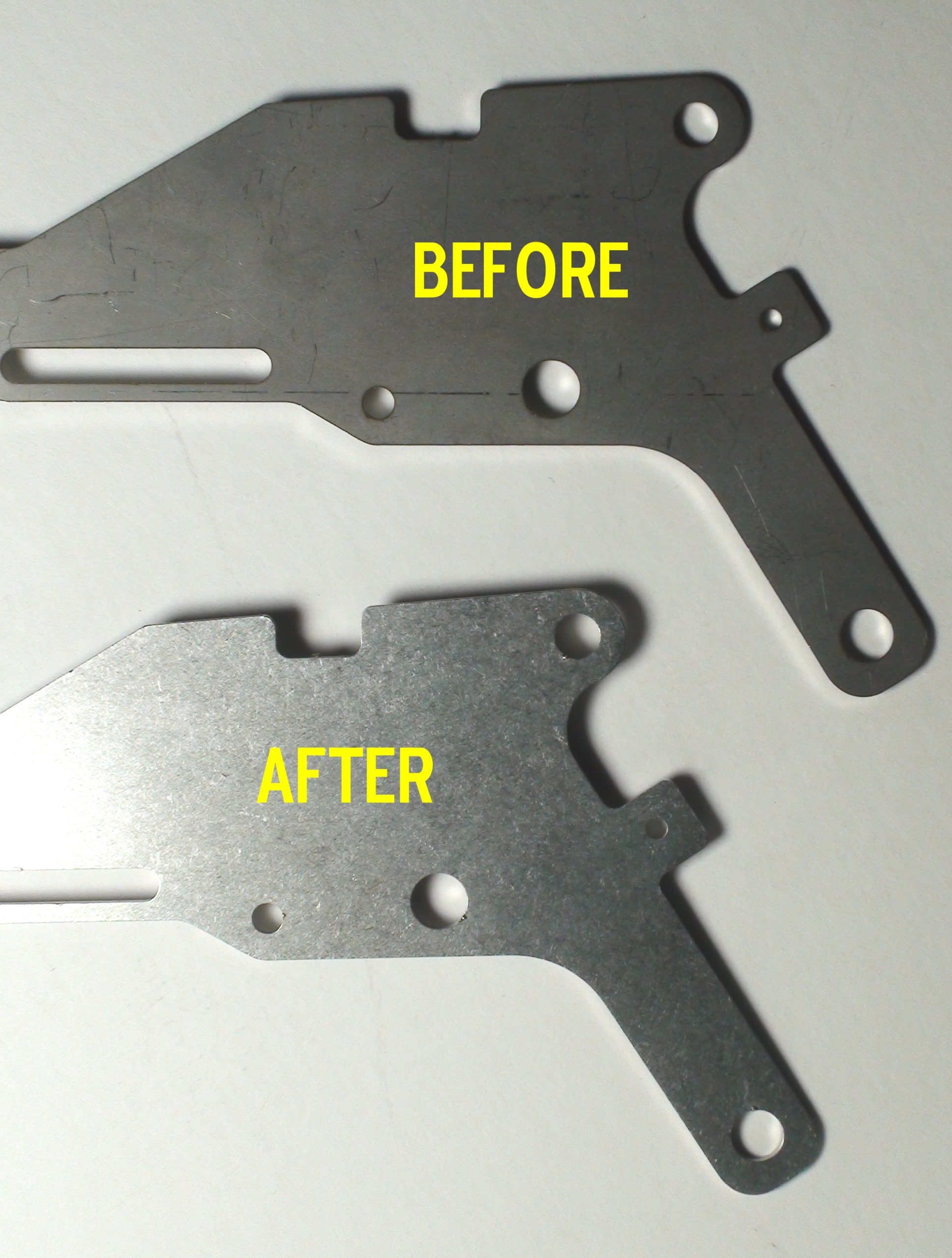 Fladder Flexible Deburring offers flexibility with tooling up abrasive brushed with slats or strips with different grades for finish and different sizing for depth and contours. It has three pairs of counter-rotating spindles (six spindles altogether), two of which are for edges. The part is deburred and finished in orbital and oscillating movements. The counterclockwise rotation makes for a more uniform deburring, and the oscillation technique is necessary when deburring holes or parts with depth. The result is that it can feed parts side-by-side and still be uniformly deburred.
Contact Us for a Flat Deburring System
Oscillating Method
In terms of finishing technology, the Fladder GYRO and Fladder AUT are in a class of their own. The compact, strong gear head is equipped with a total of six spindles, mounted in three sets of two, rotating alternately clockwise and counterclockwise. The spindles' gearing varies between the pairs so the part's faces have a uniform finish and the finishing tools have equal wear.
During the process, the entire head and the six spindles rotate and oscillate across the surface of the parts, which means that the processing of the surface is applied from every possible direction no matter how the part is placed on the conveyor belt. This fact is especially important in setups where the machines are placed in a line, making it possible to utilize the full 1300 (GYRO-model) working width.
Some features of our oscillating method flat deburring machines:
Built-in PLC: A built-in PLC control is a standard feature of the machine and allows programming of the machine's functions and the ability to control the machine from a centralized control panel. PLC controlled with clear and easy monitoring of machine and operation through a number of windows in the machine's cabinet and shields.
Vacuum system: Through the carefully balanced impellers, the air is led into the shields covering the machine. From the shields, a series of nozzles eject the air back to the conveyor belt. Because of this air ejection, dust is cleared off the parts, and the air turbulence keeps the dust from settling. The vacuum pumps are supplied as external pumps to be placed away from the machine in order to reduce noise or an integrated part of the machine.
Frequency converters: Frequency converters on most motors preserve energy and always supply the right amount of energy for the workload.
Conveyer belt: The conveyor belt is of the highest quality, with a natural rubber layer covering the outside for improved friction properties. The same holes in the belt create more efficiency with our vacuum holder technology, which will hold small parts in place.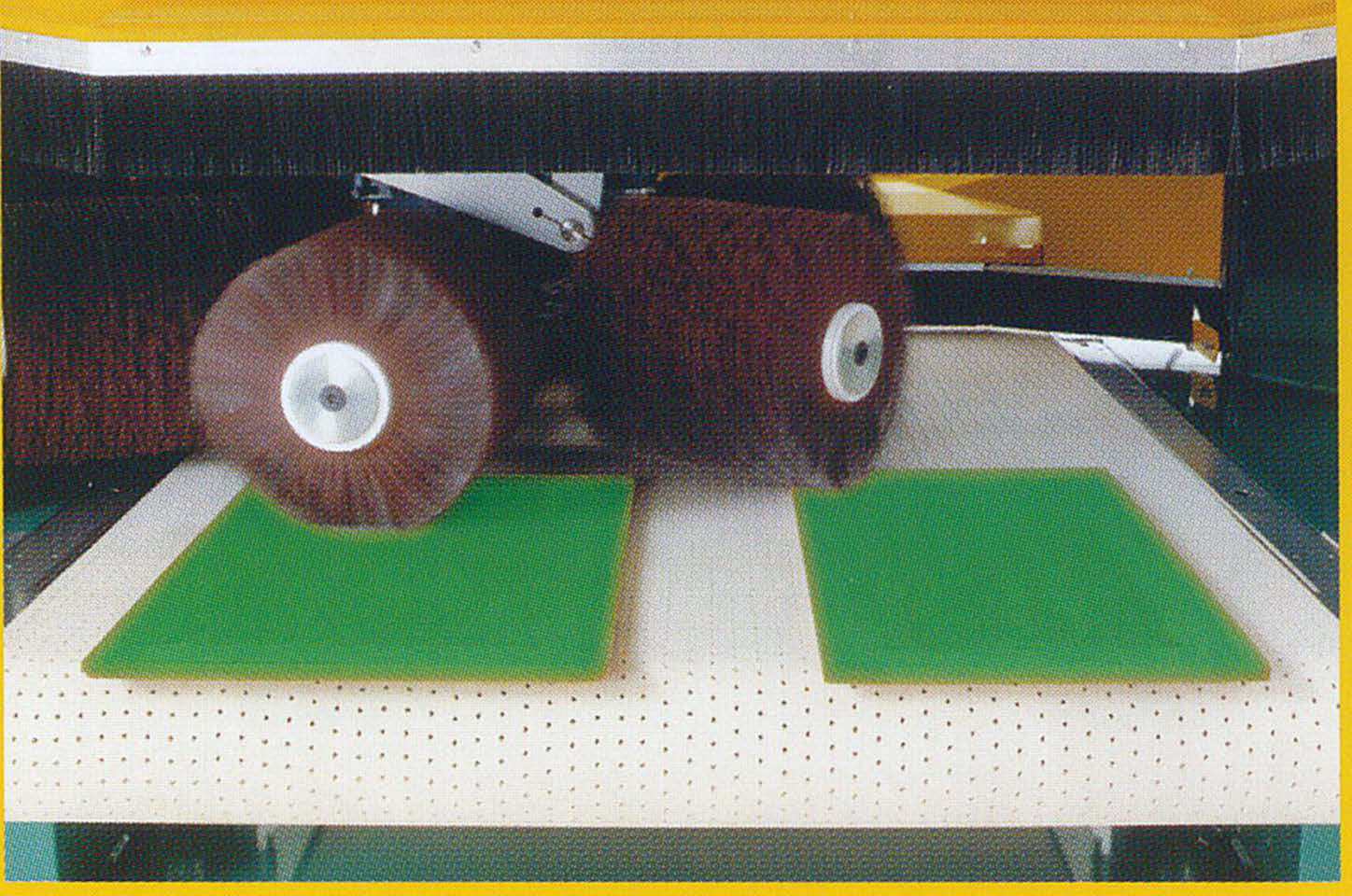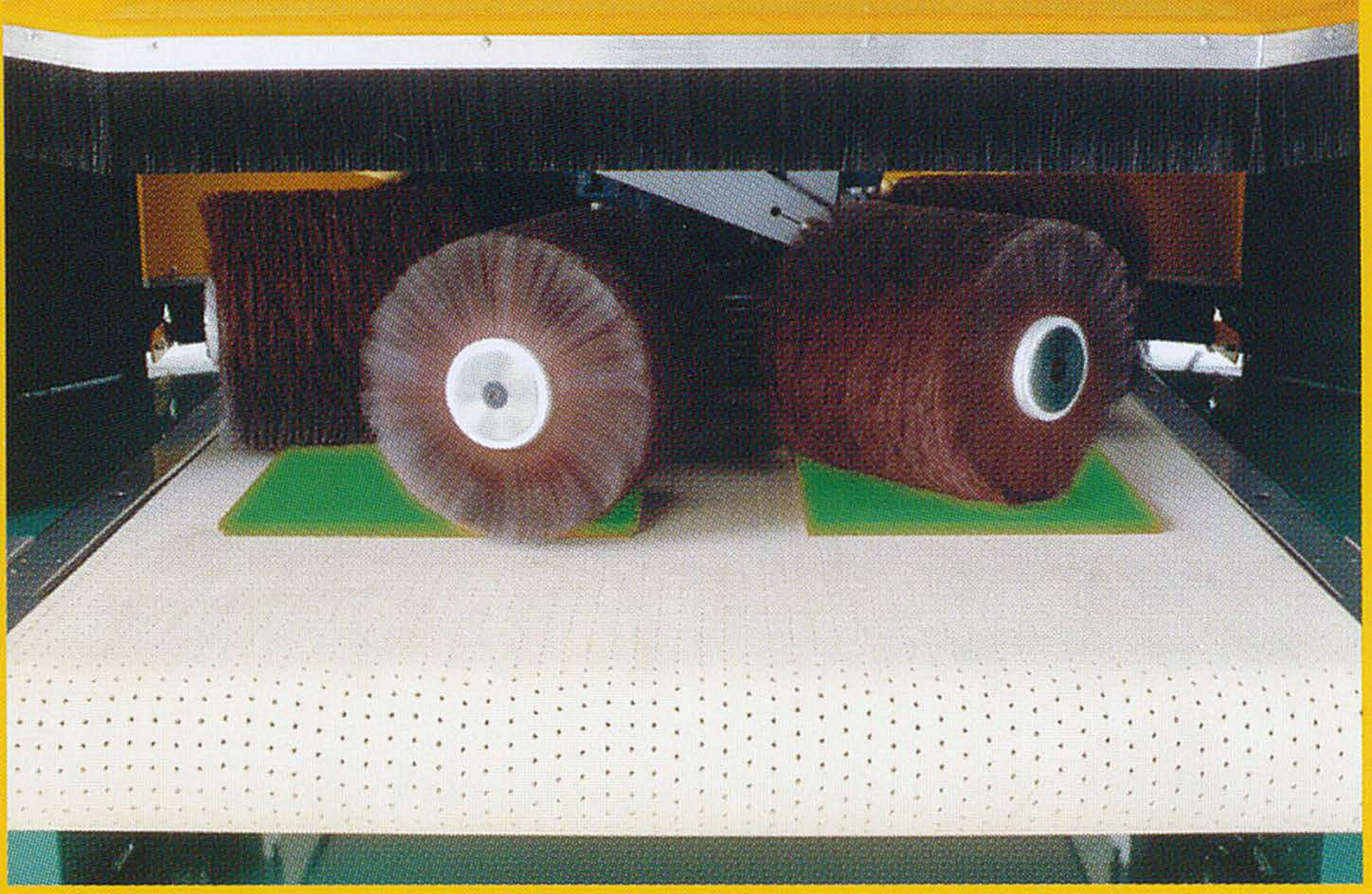 Models:
Here are the specifications for some of our models:
300 GYRO
| | |
| --- | --- |
| Loading/Unloading Height | 33 1/2" |
| Working Width | 51" |
| Max Part Height | 4" |
| Max Part Width | 51 - 63" |
| Spindles | 6 @ 13 3/4 |
| Overall Approx. Size | 87H x 90W x 81L |
400 GYRO
| | |
| --- | --- |
| Overall Approx. Size | 94H x 90W x 95L |
Why Partner With Advanced Deburring & Finishing?
Advanced Deburring & Finishing can help you find the right solution for wood and metal applications and dry and wet dust collectors. We have more than 38 years of experience in surface cleaning, deburring and finishing your products. Our finishing systems can help your business meet your finishing requirements to reduce lead time while improving quality.
Our headquarters are in York, Pennsylvania, and we have an office in Statesville, North Carolina. We have the equipment and expertise to serve many types of industries, including:
Transportation.
General manufacturing.
Medical manufacturing.
Learn More About Flat Deburring Today
Advanced Deburring & Finishing offers many options for parts precision cleaning, including blast systems, cabinet spray washers and water reclamation systems. With our systems, your parts will have a better bonding surface for paint and coatings, so they'll last longer.
Learn more about why we're an international authority on flat deburring. Contact us online for more information about our high-quality flat deburring machines and other specialty systems.