Advanced Deburring & Finishing is your best choice when you need ceramic tumbling media for any application. Our selection of various sizes and shapes of ceramic tumbling media is perfect if you have general-purpose deburring or polishing to do, or you need to remove material from soft metals like aluminum or harder metals like stainless steel.
Turn to us when you need specialty shapes for unique or demanding applications, such as angle-cut stars and tetrahedron-pyramid tumbling media. Our inventory is inclusive enough to handle a range of manufacturing and finishing processes. We have the right materials for all surface preparation machinery so you can get the most from your purchase.
Learn more about ceramic tumbling media and how it can benefit you in your finishing application.
When to Use Ceramic Tumbling Media
Ceramic is one type of tumbling media material that can efficiently smooth over rough metal. Ceramic is highly reusable, produces a low amount of dust and effectively cleans metal and other materials. It also does not promote rust when applied directly to metals.
Ceramic tumbling media is effective on heavy metals and other hard substances. You can use ceramic tumbling material to polish and deburr metal. Ceramic media is excellent at metal removal, giving you a smooth surface for assembly or polishing.
If you need media with a low upfront cost, ceramic is a great choice. We have a wide variety of shapes and sizes so you can find the exact match for your operation.
Different Ceramic Media Sizes
Tumbling materials are measured in mesh sizes — also called grit sizes. Larger grit sizes and particles create larger indentations in materials than smaller grits. When choosing the size for your ceramic media, consider a few factors:
Material strength: If you are working with a softer material like wood, you should find out what grit size corresponds to that material's hardiness.
Nature of work: Depending on the ultimate goal — whether that's cleaning or polishing — the grit size can impact the final product. If you want to deburr hard metal quickly, a larger grit size can drive more impact. For fine polishing, a small grit size is preferred.
Available inventory: Generally, it is best to use the smallest grit size available to get the most powerful performance. With Advanced Deburring & Finishing, you can find a range of grit sizes to best suit your needs.
Our ceramic tumbling stock sizes change for each shape. We also offer separate custom sizes you can purchase upon request.
Our Ceramic Tumbling Shapes
The media shape determines how deeply the media will cut into the material. For ceramic material, we have different shapes to give you the desired finish.
There are two main categories for tumbling media shapes:
Angular: Angular materials are jagged enough to clean, polish and break through material quickly.
Round: Round tumbling media creates an even, dimpled profile. This type does not cut quite as quickly as angular media, offering a slow, delicate approach.
We can help you find the ideal media shape for your application — talk to an expert at Advanced Deburring & Finishing to find the right media.
Contact Us for Ceramic Tumbling Media
Stock Sizes and Special Shapes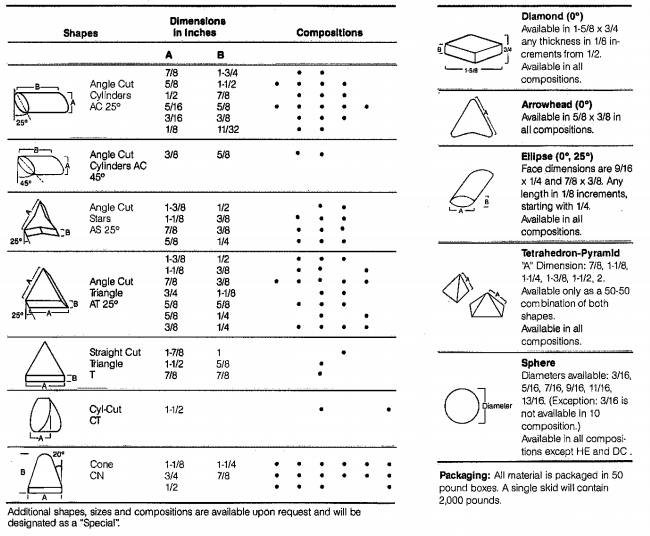 More Than Just A Product
Advanced Deburring & Finishing offers more than products — We Sell The System. We'll help you choose ceramic tumbling media that is perfect for the task at hand, and we're always happy to demonstrate how we earned our international following. We have been around for almost 40 years, and our experience helps us recommend the right product for your application.
If you have any questions about our procedures or pricing, we are glad to help. To find the right type of media, contact us online to speak to a representative.
Contact UsGive Us A Call