"Venturi" or Suction blasting unit would have a nice lightweight pistol grip blast gun. The abrasive media used for the process is contained in a storage hopper for use. Line air pressure moves through the air hose and an orifice toward the blast gun/nozzle, which creates the venture or siphoning effect. This picks up the media from the storage area, moves it through the hose and out blasting nozzle for impact against the work surface of the part.
Normal blasting pressures at 80 – 100 psi.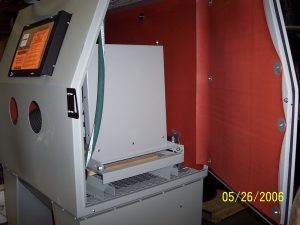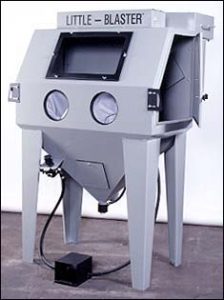 There are many different standard size cabinets available. Small units to very large and custom machines are not uncommon being that we are putting your entire part inside a cabinet.
Turntables are a great addition to helping to move or turn parts as the operator reaches through the two armholes to blast.
Reclaim units and dust collectors are sized for the working blast cabinet open area inside. If undersized or dirty the dust will stay in the cabinet and hard to see to do blasting function or if oversized will suck out all of the abrasive after just a cycle or two.