Suction Type Blasting Units
"Venturi" or suction-type blasting units provide an appealing, lightweight pistol grip blast gun. The abrasive media used for the process is contained in a storage hopper for use. Line air pressure moves through the air hose by a suction gun.
The media is then taken toward the blast gun or nozzle, which creates the venturi or siphoning effect. The effect is that the media moves quickly into the cabinet and exits out of the blasting nozzle for impact against the work surface of the part.
Normal blasting pressures range from 80 to 100 pounds per square inch (psi). They produce less aggressive cleaning power, meaning it will take longer to clean or strip a component. However, less pressure means the machine's parts will stay good for more extended periods. There will also be a fainter anchor pattern on the component you are cleaning or finishing.
What Are Suction Blast Cabinets For?
Suction blasting units are common in multiple industries, including industrial applications. However, they are commonly used in light production jobs and for general cleaning of different components. You can also use a siphon blast cabinet for some maintenance work.
If a high-productivity yield is not necessary for your application, a suction blast cabinet is the solution for you. The cabinet performs well at a slower pace, making your choice dependent on how much you need to produce in a given day. A suction blasting cabinet will require lighter abrasive media than others, such as pressure blasters.
Advantages of Suction-Type Blasting Units
When choosing a blasting cabinet, it's vital to consider all the benefits of using a suction-type unit. Advantages of these units include:
Less air usage: A suction blast cabinet requires less compressed air than some other types of blasting units.
Lower initial cost: A suction blast unit has a simple setup because it requires less equipment.
Cost-effective unit: A suction blast cabinet has less operating and maintenance costs than other blasting units.
Continuous use: A suction blast cabinet will continue running as long as there are abrasive media in the bottom of the cabinet.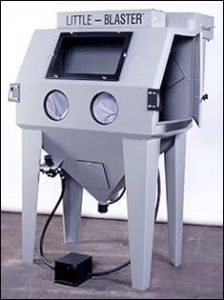 Standard Industrial Machine Sizing for Smaller Industrial Suction Blast Machines
Advanced Deburring & Finishing cabinet models include:
2824 Series – 28″ wide x 24″ deep x 24″ high (working area)
4024 Series – 40″ wide x 24″ deep x 24″ high (working area)
4824 Series – 48″ wide x 24″ deep x 24″ high (working area)
These models have mild steel and a side swing door. Other options include a possible table mount with no legs and oyster shell tops for lifting heavier parts into the machine with lift or hoist. All available for dust collection system via bag house or cartridge.
Contact Us for Your Suction Type System
There are many different standard-size suction-type cabinets available. Advanced Deburring & Finishing can recommend small units all the way up to very large machines depending on your needs. Custom units are not uncommon in applications that require the entire part to be placed inside the cabinet.
Turntables are a great addition to suction-type units that help to move or turn parts as the operator reaches through the two armholes to blast the workpiece.
Reclaim units and dust collectors are sized for the working blast cabinet open area inside. If the reclaim unit is undersized or dirty, the dust will stay in the cabinet and make it hard to see and complete the blasting function. Or, if it's oversized, it will suck out all of the abrasive after just a cycle or two.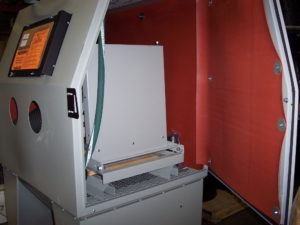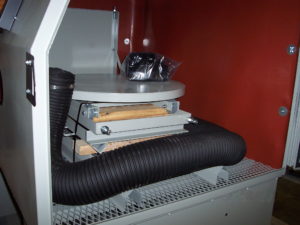 Standard Heavy-duty production type  Industrial Suction Blast Machines
Cabinet Models:
3636 Series – 36″ wide x 36″ deep x 36″ high (working area)
4836 Series – 48″ wide x 36″ deep x 36″ high (working area)
6048 Series – 60″ wide x 48″ deep x 42″ high (working area)
6060 Series – 60″ wide x 60″ deep x 42″ high (working area)
These models have Duct Collection, HEPA Filters, wear kit, powered doors/turntables, and barrels all available for these models.
Speak with one of our specialists today to find out more and learn how we built our international following.
Why Choose Advanced Deburring & Finishing for Suction Blasting Units?
High-quality products from Advanced Deburring & Finishing will help you achieve your goals, no matter what industry you serve. When you choose our products, you receive many benefits, including:
Reliable equipment: Our team uses new technology to create and develop advanced machinery and equipment as quickly as possible. Our goal is to design equipment that will last a long time without issues.
Safe machines: Our team examines every possibility to ensure these machines meet plant safety standards. We want you and your employees to feel protected while using them.
Money savings: Our machines will help you see a faster return on investment because we manufacture them quickly and with top-of-the-line technology.
Contact Advanced Deburring & Finishing for Siphon Blasting Equipment Today
Suction-type blasting units are useful for light industrial applications and component cleaning. They are a cost-effective solution because they have a low initial cost, are easier to care for and use less air than other blasting units. We offer industrial and heavy-duty industrial suction blast machines with features to benefit your application.
All our equipment is safe and reliable due to our industry expertise and advanced technology. No matter what you need a suction blasting unit for, Advanced Deburring & Finishing has a machine to help. Please contact us online today for more information.