Ultrasonic cleaners are ideal for industrial, medical, automotive and other applications. They're powerful, quiet and more precise than hand-scrubbing or other forms of line-of-sight cleaning devices like power washers. Whether you need to degrease an anilox roller, chrome-plated cylinder or automotive part, Advanced Deburring & Finishing will have the equipment to meet your size and power specifications.
How Does Ultrasonic Cleaning Work?
Ultrasonic cleaning systems rely on transducers to vibrate a submersion tank, creating ultrasonic waves so small they're difficult to see. The ultrasonic waves create microscopic cavitation bubbles that implode, creating latent heat and energy. The energy removes buildup, ensuring a quick, thorough clean every time – even for thread roots and other complicated contours.
How Ultrasonic Cleaning Differs From Other Methods
An ultrasonic cleaning system can combat some universal production problems. Here are just a few:
Cleaning by hand is time-consuming, and the level of accuracy varies from person to person.
If the item is being prepared for coating, bubbling and flaking can occur.
When an item isn't up to cleaning standards, it can hold up an entire production line.
Ultrasonic cleaners require no harsh chemicals, making them efficient and environmentally safe alternatives to scrubbing items with abrasive and potentially harmful cleaners. Often, a simple, mild detergent will do. You can adjust the ultrasonic cleaning system to the water temperature and frequency needed for the parts you're cleaning and use various cleaning agents.
About Our UltraSonic Cleaning Service
At Advanced Deburring & Finishing, we're experts. We resolve the effects slow, ineffective cleaning processes can have on a company's bottom line. Our team ensures you receive the right solutions, finding the right cleaning process and equipment for your material's needs. We can help you cut costs while creating the highest-quality finishing.
What Are the Benefits of Ultrasonic Cleaning?
There are several ways an ultrasonic cleaner can improve workflow and maximize production, including:
Reduced time spent cleaning parts: Cleaning with an ultrasonic system typically takes 10 minutes to an hour, depending on the item's size and whether it needs to go through a multistage process.
A longer-lasting, near–perfect finish: Reducing surface debris acts like a first line of defense for a long-lasting topcoat. Ultrasonic cleaners can reach holes and cracks that manual cleaning processes may not touch. You can add detergents or other cleaning agents to remove tough greases and other contaminants, too.
Cost-savings and return on investment: Fast, efficient cleaning processes make for productive production lines. Ultimately, this system can help your team increase output, improving your company's bottom line.
HIGH INTENSITY-TYPE SWEEP FREQUENCY ULTRASONIC CLEANING TANK SYSTEM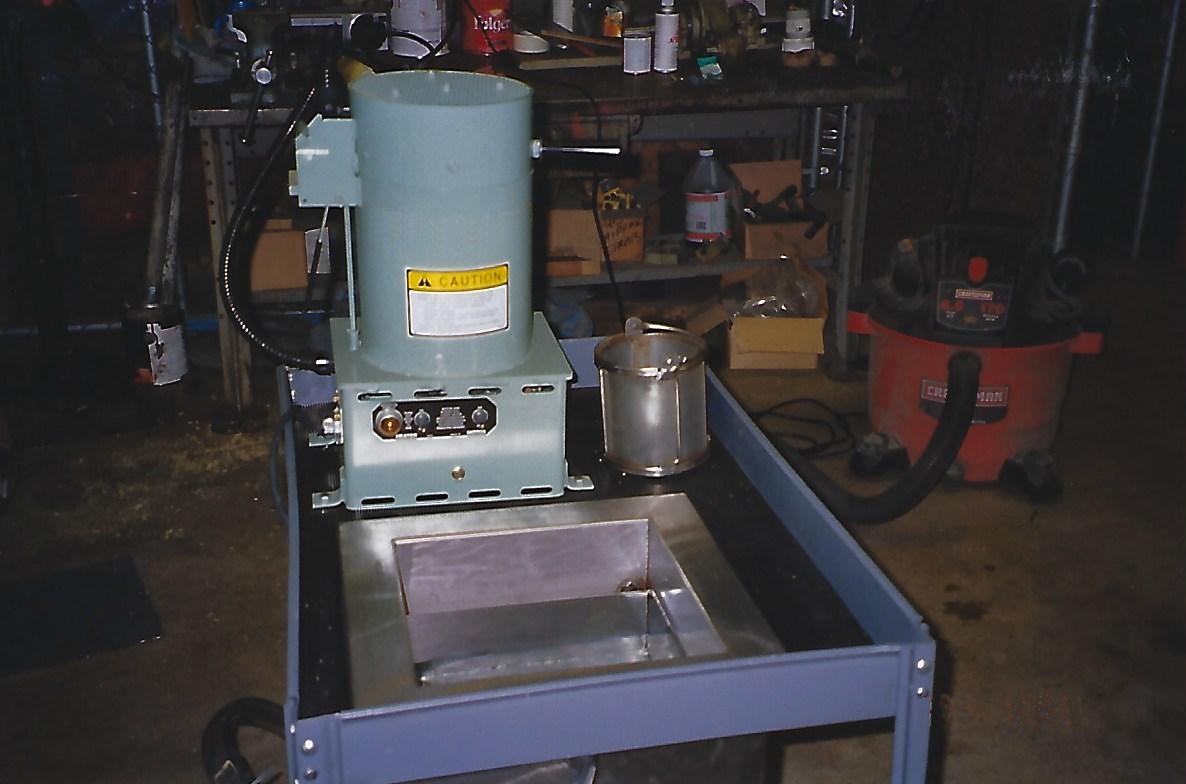 Includes:
Stainless construction
High-efficiency piezoelectric transducers
Modular design with separate generator
Sweep frequency power oscillation
FCC-compliant with EMI suppression
Many standard tank sizes available
"Band Scanner" technology is the benchmark for efficiency and reliability among industrial ultrasonic tank/generator systems. We offer 2.5 to 60-gallon capacity ultrasonic deburring cleaning tank systems with the widest range of operating frequencies and variable output in watts. Plus, these heavy-duty units can handle the harshest industrial environments.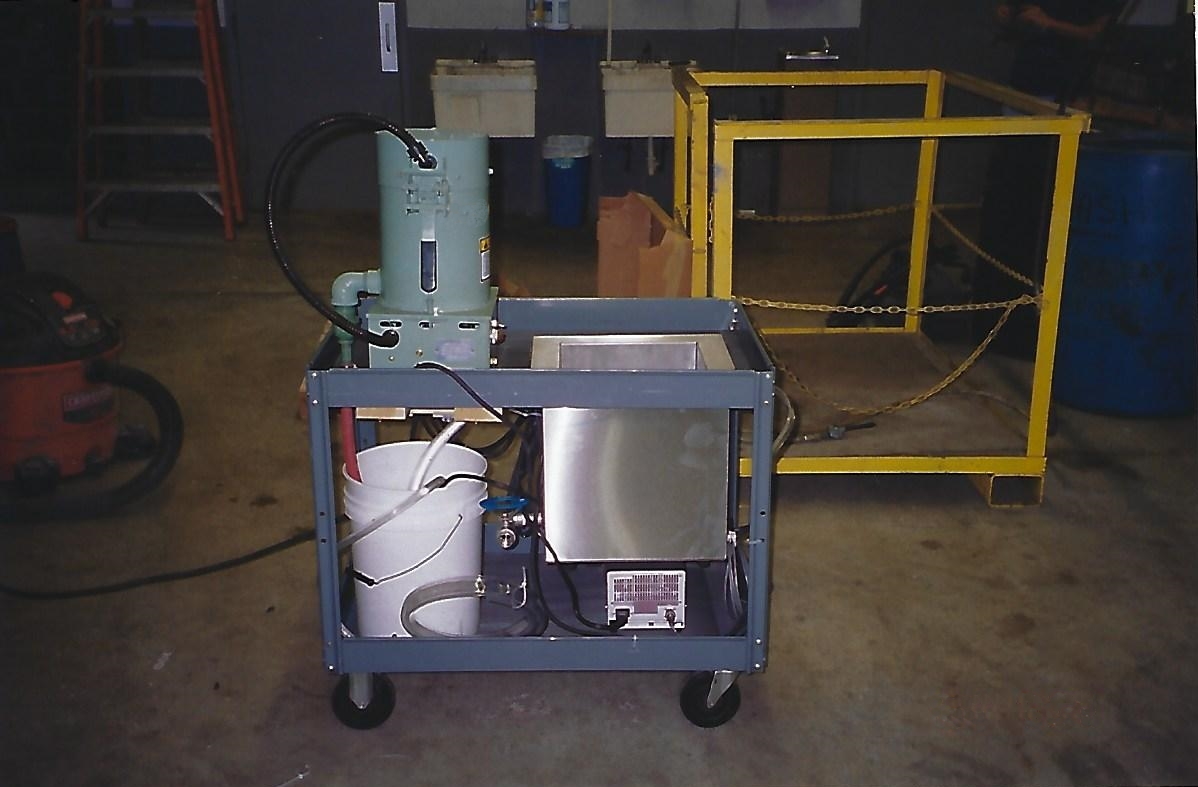 Table-top-ready
Sonic power from 225 to 2400 watts
Baskets, covers and insert trays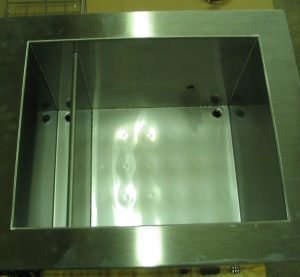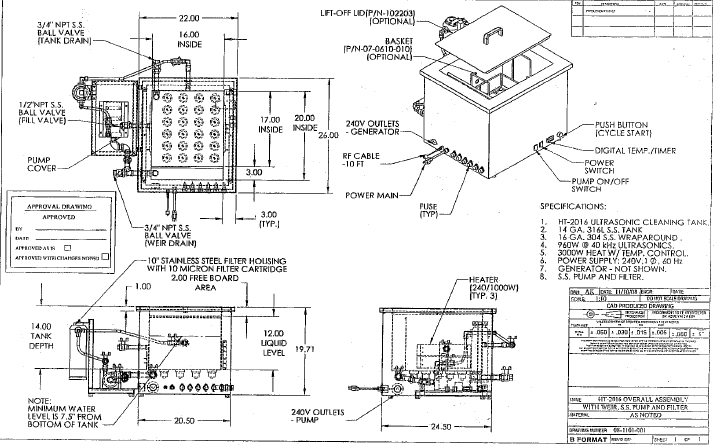 Contact Us for Your Ultrasonic Cleaning System
ANILOX "CY" SERIES ULTRASONIC CLEANING
The Anilox Cleaning System is a specially designed ultrasonic cleaning system that restores cell volume without damage to the delicate cell walls on high-screen-count anilox rolls. We are equally effective on chrome-plated cylinders and provide superior cleaning in less time than any other available roll cleaning technology.
Critical process time, temperature and ultrasonic cleaning intensity are all carefully controlled to optimize cleaning and ensure process consistency.
CY-4808: 20 gal. x 48 x 4 x 18″ tank @ 900 watts
CY-14414: 225 gal. x 144 x 18 x 26″ tank @ 7200 watts
Proven process and procedure with many systems in operation today.
Sample part evaluations and/or processing sample parts is recommended for most applications.
MULTI-STAGE CONSOLE UNITS
These systems offer an attractive, space-saving alternative to industrial parts washing systems. All-stainless (brushed finish) cabinet, seamless countertop, tanks and supply plumbing.
Perfect where appearance and maintenance cleaning are particularly important.
Pharmaceutical plants
Printing shops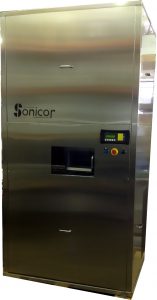 The "CU" Series is modular and expandable. Small portable systems are available.
Tank Sizes:
10 x 12
12 x 16
16 x 20
20 x 24
100%Pneumatic Powered systems for solvent cleaning/dips
visit Specialty Systems
SOLVENT AND VAPOR DEGREASER SYSTEMS
For applications that require low-flashpoint solvents.
Designed for hazardous environments, the "D" Series is state-of-the-art ultrasonic cleaning technology with emissions control and operator safety features. Fully enclosed, with automation for basket loading and unloading. Features extended freeboard, sliding cover, water separator and "vapor watch" safety circuit for sensors, and monitoring system functions for identifying faults and delivering operator notifications on machine procedures.
ULTRASONIC CLEANING SYSTEMS FOR SPECIALTY PARTS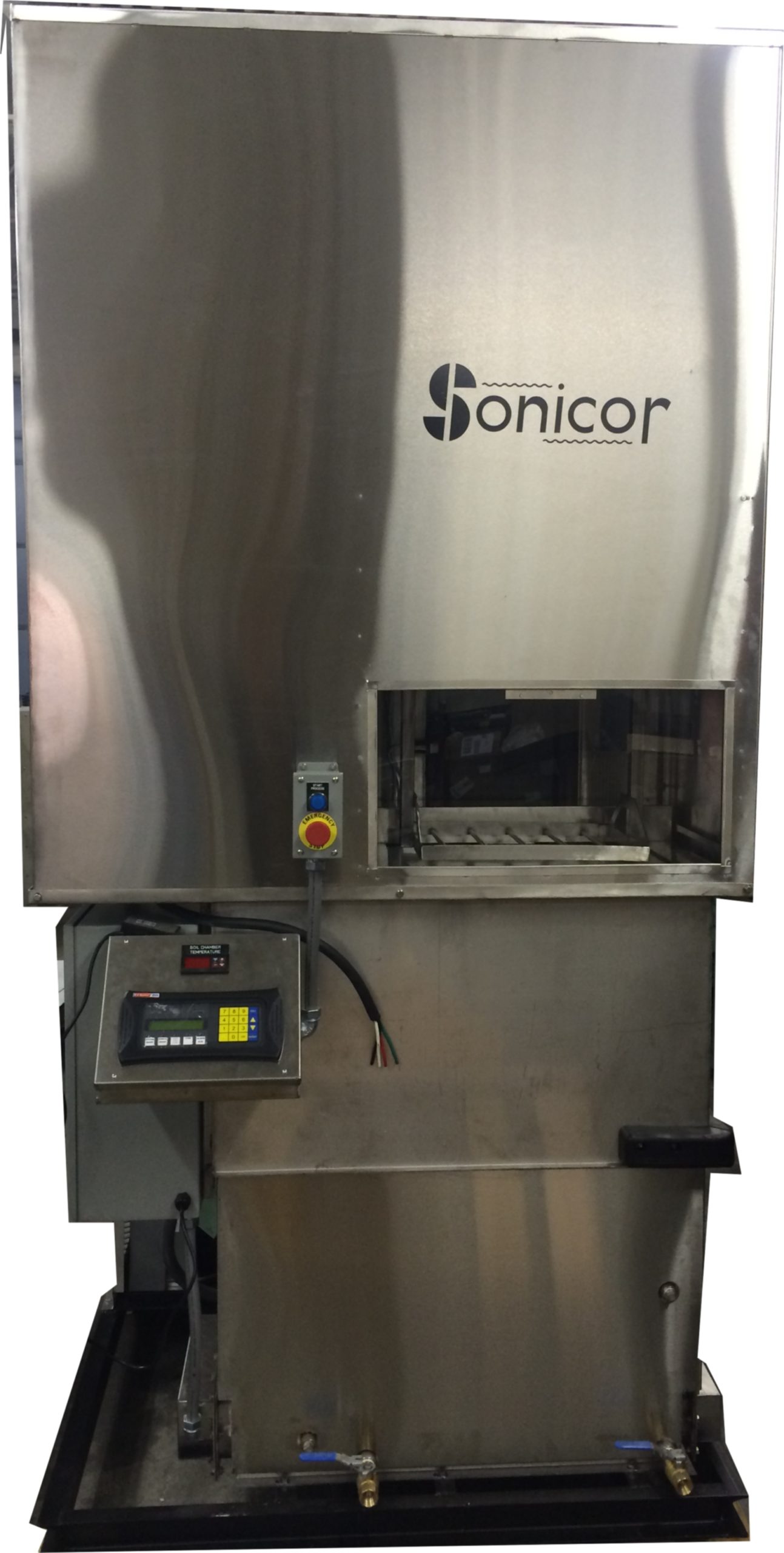 Two-Stage Units:
Vapor/Immersion
Vapor/Immersion/Ultrasonic
Cleaning Zones:
17″ x 11″ x 9″ Deep
41″ x 24″ x 18″ Deep
Sonic Action (Cavitation)
Typical ultrasonic cleaning frequencies range from 20 to 200 kHz. The standard operating range of a variable frequency ultrasonic cleaner is 30 kHz for a magnetostrictive transducer with piezoelectric. "Normal" is 40 kHz, with up to 80 kHz in standard units.
A piezoelectric transducer can accommodate the entire frequency range necessary for various cleaning requirements. It's also power-efficient because it converts low-voltage electrical energy into mechanical energy, consuming less power than transducers that require the expansion and contraction of metals like copper. Since it's powered by a crystal called lead zirconate titanate, a piezoelectric transducer is quiet, making it great for areas where noise levels are a concern.
The high-frequency ultrasonic cleaner design allows for waves to pass through the solution cause cavitation, or intense microscopic air bubbles (millions of them) that make an implosion on your part surfaces or a "scrubbing action" that penetrates into cracks, recessed areas, blind holes and passageways for the ultimate precision cleaning process.
The larger the item to be cleaned — or the greater the surface-to-mass ratio — the more ultrasonic power is required. For this reason, it's important that all surface areas are exposed and the controls are available for adjusting the power necessary for a proper clean.
ULTRASONIC CLEANING WITH IMMERSION/AGITATION
Sonic power from 1000 to 3000 watts for standard machines.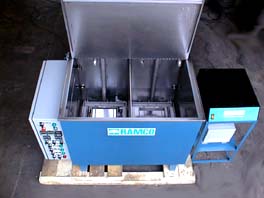 Model: MKD-16EUSSWR
Ultrasonic Wash and Rinse, Heated Tanks
Control Panel on Left
Sonic Generator Stand on Right
Open Platform/Roller Conveyor Design for Direct Sonic Import
ULTRASONIC CLEANING SOLUTION
Selecting the correct ultrasonic cleaning method and solution for your product is a vital part of the cleaning process. The foundational step is assessing the type of material you need to clean and what substance you need to remove. Although the cleaning process can seem complex, it's reassuring to know there is a specialized science behind choosing the correct solution for objects used in medical or dental practices. Various formulas are tailored to these specific needs when doing industrial parts cleaning.
Specific types of cleaners are made to help with removing difficult substances like oil, grease or carbon residue. The ultimate goal is to use a solution with the highest-quality active ingredients.
SOLVENT-FREE Cleaning SOLUTION
Ultrasonic cleaning often uses solutions made from a solvent-free, water-based degreaser. This type of solution can clean most metals, including stainless and carbon steel, magnesium, brass, copper and more. It's also effective for most composite materials, including plastics and ceramics. These aqueous solutions are user-friendly, especially when compared to more difficult manual cleaning methods. The aqueous solution allows you to simply clean the item with the proper dilution.
In some scenarios, you can even heat your solution to achieve a deeper and more thorough clean through chemistry. However, it's not recommended to heat the solution when working with composite materials like plastic because doing so can cause deformation.
Solvent-free solutions are ideal for industrial parts cleaning that targets the oils, stains and greases that develop on certain metals. For example, stainless steel, magnesium, brass and even 3D printing parts can benefit from a water-based solution. These solutions are the perfect complement to your ultrasonic cleaning machine in a wide variety of cleaning applications.
Typical cleaning applications include:
Parts detailing
Metal finishing
Pre-treating
Parts finishing
Degreasing
Batch processing
ENZYME Cleaning SOLUTION
Enzyme solutions help medical and dental professionals remove different types proteins, carbohydrates and fats from instruments and medical equipment.
Common examples of substances enzymes can remove include:
Organic debris
Organic residue
Biofilm
Inorganic soil
Tissue
Mucous
Blood
Different enzymes attack various types of substances. There are enzymes that break down and eat blood, fat, amino acids and protein. The enzymes attack the protein chain found in these substances at a molecular level and help prevent infection. Enzymes are safe for use on aluminum, glass, rubber, plastic and stainless steel.
Contact Advanced Deburring & Finishing About Ultrasonic Cleaning Systems
Increase your cost and time savings while producing high-quality work with the help of your new ultrasonic cleaning system.
Contact Advanced Deburring & Finishing today to learn more about your Ultrasonic Cleaning machine.