What is Centrifugal Barrel Finishing?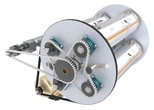 In its most basic form, this approach consists of a turret and four barrels which rotate at a high speed exceeding 300 rpm. At these speeds, G forces in excess of 30Gs can be generated inside the barrels. The centrifugal force pushes the workpieces and the media to the periphery of the barrels. Since the barrels are rotated in the opposite direction of the turret (similar to a Ferris wheel) at a 1:1 ratio, a slide is created within the barrel which causes the media to move across the workpieces and abrade the surface, removing minute amounts of material with every rotation.
Due to the high centrifugal force in centrifugal high-energy systems, the workpieces do not tumble, thus eliminating the part-on-part impingement that other systems are prone to creating. By implementing extremely high gravitational forces upon the media mass, a high amount of aggression is exerted upon the part load, resulting in a drastically reduced cycle time in comparison to alternative methods of mass finishing. The system can completely automate the finishing process.
Contact Us for Your Centrifugal High-Energy Systems

CENTRIFUGAL BARREL FINISHING MACHINES INCLUDE:
5 different configurations to accommodate various part sizes
User-friendly touchscreen controls with process storage capabilities
Variable speeds provide process versatility
Urethane-lined, dividable barrels to isolate parts
Removable barrel liners and body panels for easy maintenance
Stainless steel construction
Customizable with automation options

AUTOMATION:
Barrel positioning
Lid lifting
Barrel filling
Parts separation
Parts cleaning
Parts up to 44″L x 12″W
When something just cannot be changed, there are standard horizontal tumbling barrels and even more efficient processing/materials handling, including semi-automatic barrel finishing systems. Set for automatic loading and includes preset finishing cycle times, variable-speed drive for more versatility and a built-in separating system with screens, trays and media pans. Washing and rinsing with R.P. can be easily added to the feature set.
SIZES:
16 x 16, 2 cu. ft. w/ 1 compartment
20 x 20, 4 cu. ft. w/ 1 or 2 compartments
22 x 24, 5 ½ cu. ft. w/ 1 or 2 compartments
THRU-FEED: Standard Tumbling Barrel
3232 (5 cu. ft.)
4232 (99 cu. ft.)
4242 (912 cu. ft.)
With so many different parts and applications out there, from general industry to the smaller produced parts for watches/clocks, jewelry, medical/surgical and after-market automotive parts. Here is another possible method to speed things up while producing excellent surface refinement:
Advanced Deburring & Finishing is committed to getting the right finish or process for your parts.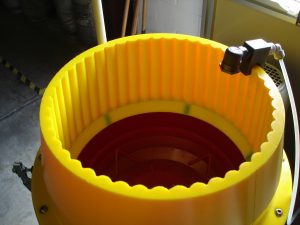 New centrifugal disc finishing and processing can be accomplished quickly, including with all types of media with wet or dry applications. Toroidal Action provides high-energy capabilities for centrifugal high-energy systems.
Centrifugal force, combined with high surface speed, creates a unique flow pattern of the medium against the parts for exceptional speed-of-process. Parts and media accelerate outward on the disc to the bowl wall very rapidly. Contact with the bowl wall decelerates the mass, thus returning it to the bottom disc center in a toroidal motion. This motion is the mechanism for working all sides of each part, including holes and rolled-over burrs.
Contact Advanced Deburring & Finishing for your Centrifugal High-Energy System.