THERE ARE A COUPLE OF IMPORTANT QUESTIONS TO ANSWER WHEN GETTING STARTED:
What is a burr?
Why is deburring necessary?
THE SECOND QUESTION WE ALREADY KNOW THE ANSWER TO:
Deburring with tub-style deburring machines is necessary for the following reasons:
Creates safe edges for handling
A better fit of mating parts
Cosmetic appearances
RMS/RA surface improvements
To prepare for painting/coatings
Burr removal is critical, along with cleaning, after a vibratory/tumbling process. It directly affects part performance, reliability and longevity.
Contact Us for Your Tub-Style Deburring Machine

The variance between smeared/parent metal pushed out from a cutting tool, the thickness of flash/gates on cast parts and a simple saw cut can change a great process to a bad process with one dull or bad tool.
The kinetic energy in our tub-style deburring machines produces one smooth motion. "Roll of Mass" tub machines can be very aggressive, with heavy burr removal, because of a greater impact on the part surface and edges.
This would also tell us that the parts are okay to be in contact with other parts. Scratching may not be an issue, and even a part-on-part-only process edge break with a heavy burr can be achieved easily.
Polishing and shining of parts can also be accomplished, but processing parameters are critical to a good operation. Less gravity or smaller/softer medias could be used.
We offer compact, cost-efficient and ideal solutions for manufacturing work cells, including tub-style deburring machines. Complete the burr removal/finishing between part machining time. One-part processing can feature delicate or aggressive action for heavy burrs.
VB SERIES: 2.5 CU. FT. (1615)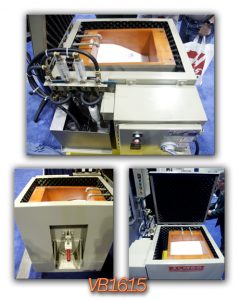 Overall dimensions: 3.6"H x 2.6"D x 2.9"W
3 H.P. adjustable 1750 to 250 vpm
Tub length: 15"H x 18″D x 16"W
Discharge door unloading height @ 17"
| | | | |
| --- | --- | --- | --- |
| Model | Cu. Ft | Length | Width |
| V-5 | 5.2 | 31″ | 17″ |
| V-8 | 8.4 | 34″ | 20″ |
| V-16 | 17.1 | 97″ | 17″ |
| V-24 | 25 | 99″ | 20″ |
| V-52 | 52 | 142″ | 24″ |
There are many differently sized tub-style deburring machine models to choose from depending on part sizing, production and finishing requirements. Each one comes with 1"-thick polyurethane 80 durometer hot poured lining and sound hood.
Needing that special finish that only a tub-style deburring machine is able to provide with polished/burnished parts. Part fixturing and roll fixtures can be used to achieve very high-luster finishes on many types of surfaces.