Since the metalworking industry has a wide variety of finishing requirements and an equally wide range of products to be finished, the efforts necessary to accomplish the desired results demand increasing degrees of specialization.
The spindle concept is sometimes referred to as a "Slurry Deburring Machine" or "Flowing Abrasive Machine." The equipment generally includes a circular rotating tub holding lose media/abrasive, a rotary spindle to hold parts and fixturing.
The principle of this process is to use slurry deburring to finish a workpiece mounted on the rotary spindle by immersing it into a rapidly moving abrasive slurry. The velocity of the abrasive is generated by the rotating tub speed suitable for the process requirements. The abrasive slurry particles swiftly flow over and through holes and rough edges, removing sharpness and burrs.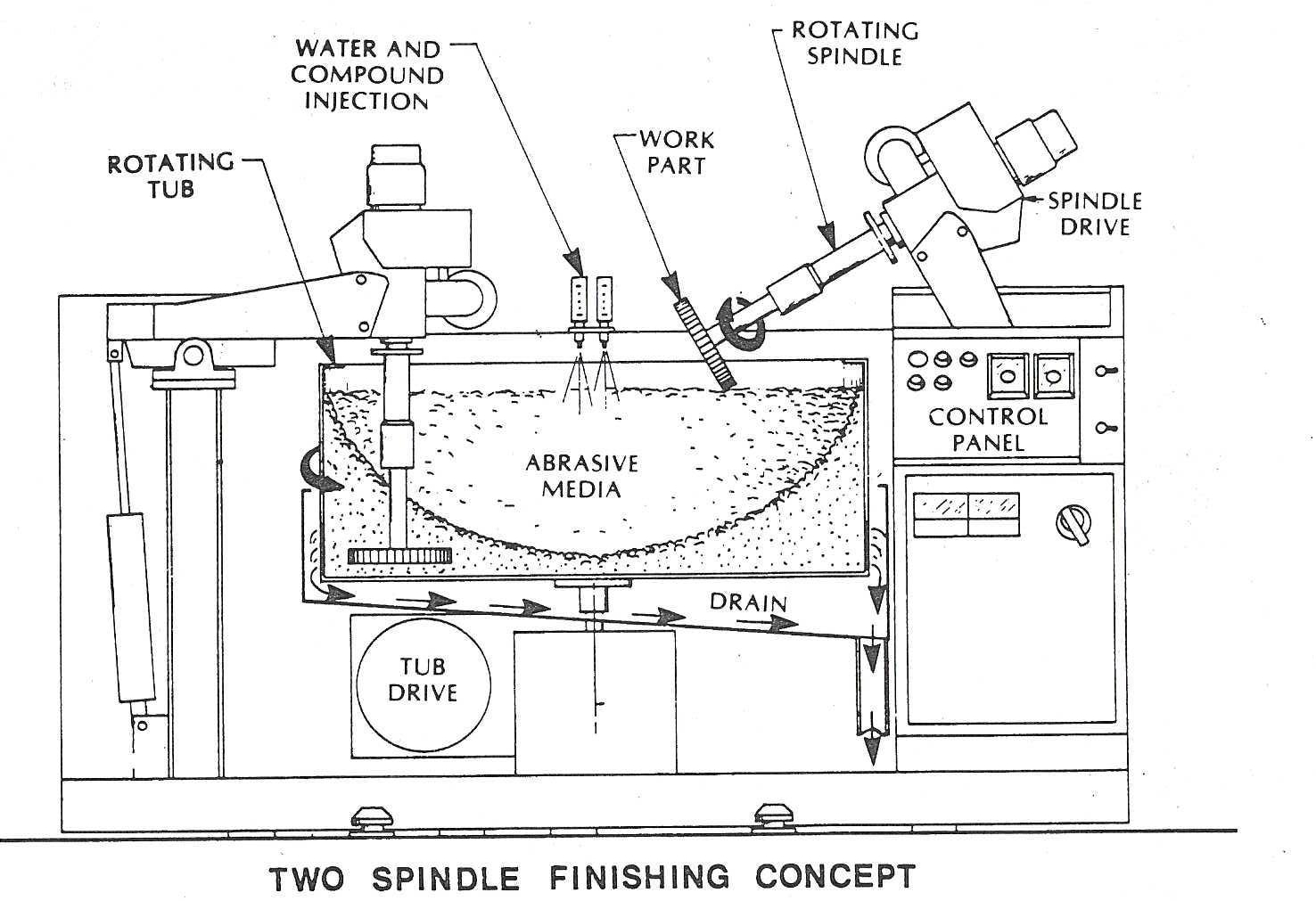 The following capabilities and advantages of spindle finishing are justifiably recognized:
Rapid, precision finishing of parts.
Part dimensions can be maintained to extremely close tolerances.
Uniform deburring, radius forming, blending of machine or grind lines, and improved micro-inch surface finishes can be accomplished on external surfaces.
Short process cycles, generally ranging from 5 seconds to 5 minutes.
Parts are fixtured, resulting in no damage due to part-on-part impingement.
Contact Us for Your Spindle & Slurry Deburring System
Spindle Finishing Models and Specifications
| | | | | |
| --- | --- | --- | --- | --- |
| Model | Width | Length | Height | Horsepower |
|  2SF-36 |  53″ |  86″ |  63″ |  7-1/2 |
|  2SF-48B |  59″ |  94″ |  68″ |  10 |
|  2SF-48D |  87″ |  94″ |  75″ | 20 |