Finding dependable equipment is vital for the metalworking industry's critical applications. Operations require spindle and slurry deburring solutions to maximize the final output quality of the materials to be processed. If your company is handling surface finishing and refinement processes, you can find the high-performance products you require when you partner with Advanced Deburring & Finishing. We offer everything you need to handle your requirements while maximizing safety and efficiency.
Explore what we have available to fit your situation and unique operations today.
What Is the Slurry Deburring Process?
Since the metalworking industry has a wide variety of finishing requirements and an equally wide range of products to be finished, the efforts necessary to accomplish the desired results demand increasing degrees of specialization. Equipment that meets your precise operating needs is crucial to satisfying the specific output standards for the final product.
The spindle concept is sometimes referred to as a "Slurry Deburring Machine" or "Flowing Abrasive Machine." The equipment generally includes a circular rotating tub holding loose media/abrasive, a rotary spindle to hold parts and fixturing.
The principle of this process is to use slurry deburring to finish a workpiece mounted on the rotary spindle by immersing it into a rapidly moving abrasive slurry. The velocity of the abrasive is generated by the rotating tub speed suitable for the process requirements. The abrasive slurry particles swiftly flow over and through holes and rough edges, removing sharpness and burrs.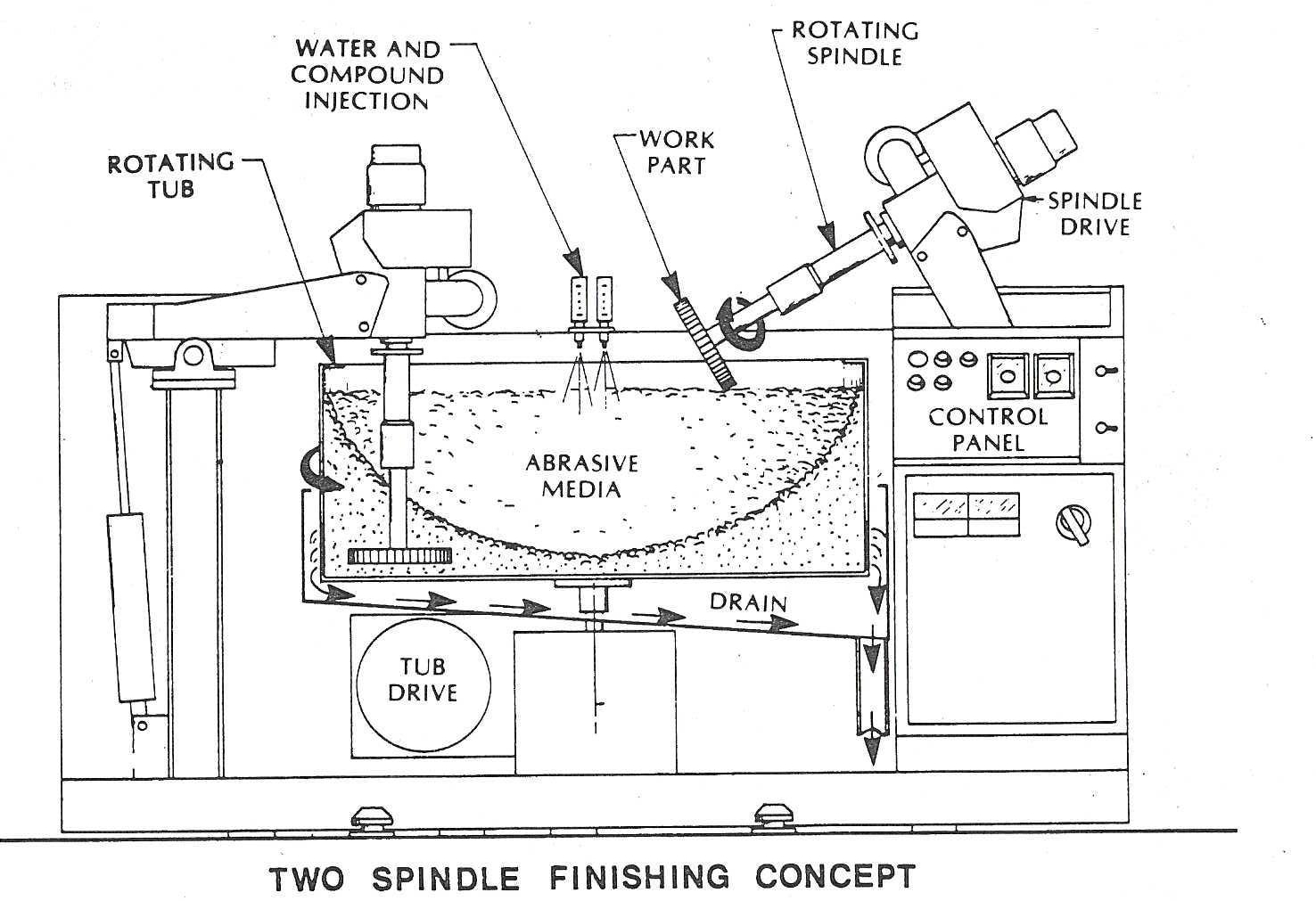 Capabilities of Spindle Deburring
Using spindle finishing processes for your operations can help you efficiently complete a range of project types. This solution works with various finishing surfaces and materials to support optimal output from your workflow.
The following capabilities and advantages of spindle finishing are justifiably recognized:
Rapid, precision finishing of parts.
Part dimensions can be maintained to extremely close tolerances.
Uniform deburring, radius forming, blending of machine or grind lines, and improved micro-inch surface finishes can be accomplished on external surfaces.
Short process cycles, generally ranging from 5 seconds to 5 minutes.
Parts are fixtured, resulting in no damage due to part-on-part impingement.
These advantages deliver enhanced flexibility to complete a precise finish on various surfaces. You can ensure a cohesive, high-quality result from your work when you choose spindle finishing to meet your operational needs.
Contact Us for Your Spindle & Slurry Deburring System
Spindle Finishing Models and Specifications
We offer several different model types for our available spindle deburring solutions. Browse our offerings and find the right power and dimensions to work with your specific project types and other unique considerations. You have multiple options so you can find the best fit for your needs.
| | | | | |
| --- | --- | --- | --- | --- |
| Model | Width | Length | Height | Horsepower |
|  2SF-36 |  53″ |  86″ |  63″ |  7-1/2 |
|  2SF-48B |  59″ |  94″ |  68″ |  10 |
|  2SF-48D |  87″ |  94″ |  75″ | 20 |