AUTOMATED WASTEWATER CLEANING AND RECYCLING SYSTEMS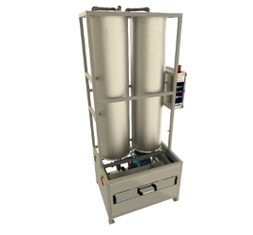 Today's businesses have unique challenges with water usage. While processes depend on it, excess use increases costs and strains local resources. As a result, many organizations have implemented solutions to capture, clean and recycle their wastewater. Introducing automation to the process helps conserve labor hours and lowers costs through less energy and resource use.
Our wastewater cleaning systems feature:
Simple touchscreen controls: Easy-to-use control systems allow for more intuitive operation.
Large capacity: Faster processing means more labor hours devoted to production.
Closed-loop system: This technology allows you to recycle 100% of your wastewater for reuse.
Efficient recycling: Our equipment's efficient performance reduces the need to retreat water.
Fully integrated pump controls: These provide machine intelligence and long-term cost savings through better protection.
Removable body panels: It's easier to maintain or repair equipment with better access.
Stainless steel construction: Durable stainless steel means longer-lasting machinery.
Warranty: Our premium wastewater cleaning and recycling systems provide peace of mind.
Complies with ANSI, NFPA 70 and NFPA 79 codes: These machines meet or exceed industry standards in reducing safety risks.
UL-approved: Our systems earn a thumbs-up from a recognized, unbiased safety authority.
Contact Us for Your Waste Water Cleaning
WasteWater Recycling Systems
Model
TC250
ARS 1000
ARS 1500
Maximum Capacity
65 Gallons
250 Gallons
400 Gallons
Process Capacity
65 Gallons
125 Gallons
200 Gallons
Controls
Simple Buttons & Valves
CPC Interface

w/memory

CPC Interface

w/memory

Ave. Process Time
20-30 Minutes
25 Minutes
40 Minutes
Sewer Connection
Not Required
Not Required
Not Required
Machine Construction
304 Stainless Steel
304 Stainless Steel
304 Stainless Steel
Power Requirements
110/115VAC Single Ph 20 Amp
208/230VAC Single Ph 20 Amp
208/230VAC Single Ph 20 Amp
Compressed Air Requirements
No
80 PSI
80 PSI
Warranty
Up to 3 Years

Component Dependant

Up to 3 Years

Component Dependant

Up to 3 Years

Component Dependant

Dimensions
W:49.4″ D:42″ H:104.7″
W:106″ D-43.25″ H-95″
W:106″ D-43.25″ H-95″
Ultrafiltration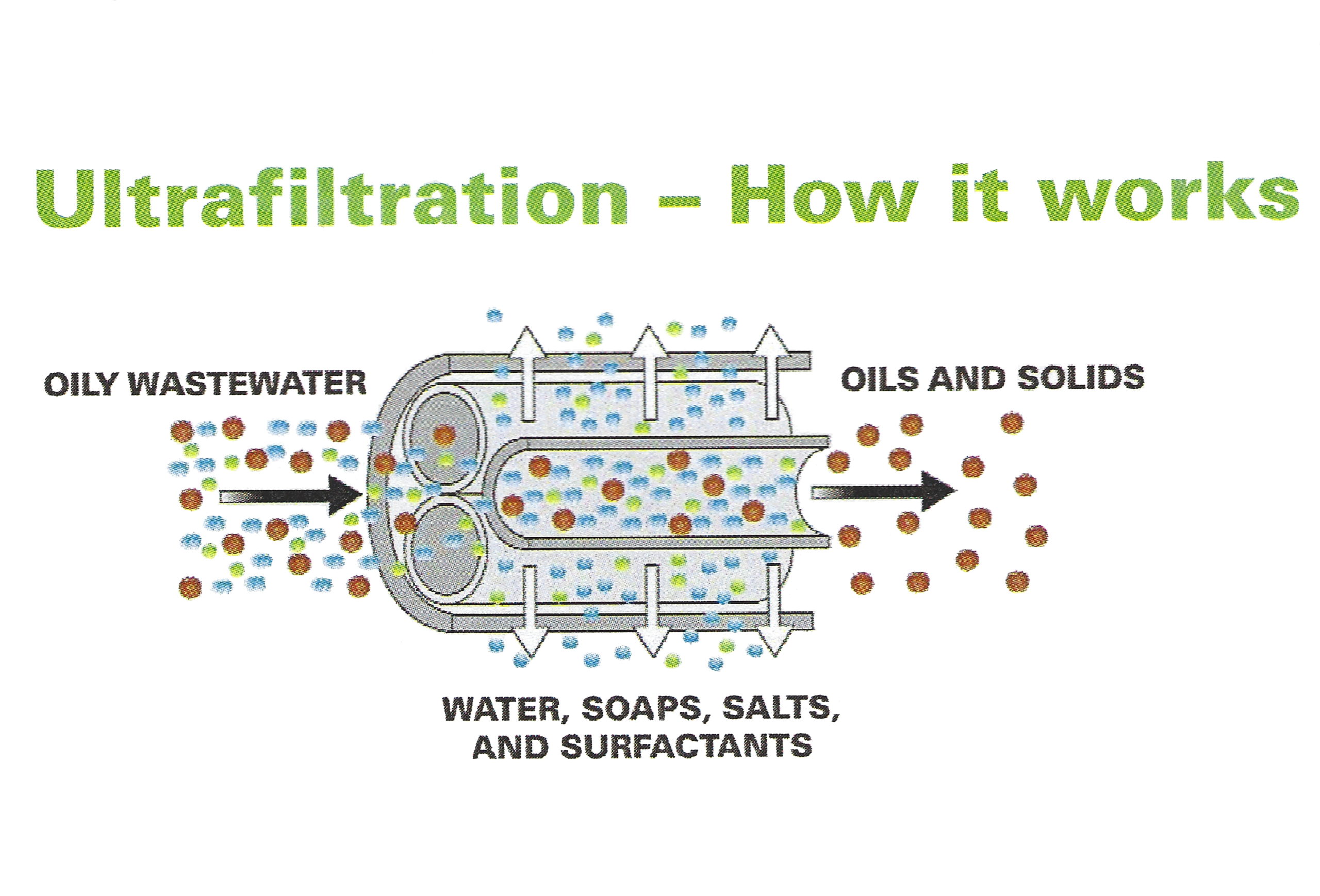 Ultrafiltration – Principle of Operation
* Oily wastewater is fed to process tank.
* The process pump circulates that wastewater through the membranes at a high flow rate. The high rate of flow sweeps the membrane surface clean.
*Pressure forces water through the membrane pores while the oil and solids are rejected.
* As the oil-free water is discharged from the system, more wastewater is fed to the process tank.
* When there is no wastewater left to process, the system will concentrate the remaining wastewater prior to disposal.

Advantages of Membrane Filtration
Ultrafiltration relies on membrane technology to remove contaminants. This method delivers several benefits to manufacturers, including:
Money savings: Smaller equipment sizes mean less energy consumption and upfront cost.
Environmental friendliness: Less need for chemical treatment contributes to sustainability and green initiatives.
Accessibility: The wide availability of membrane technology contributes to ongoing improvements.
Our systems use state-of-the-art multi-channel tubular ceramic membranes in a cross-flow configuration. Ceramic membranes are best suited for oil emulsions because of their hydrophilic (water loving = not fouled by oil) characteristics. What's more  is that ceramic membranes are virtually inert to most chemicals and high temperatures. Compared to polymeric (organic) membranes, ceramics have an extended service life as they are able to tolerate frequent aggressive cleaning cycles.
Applications:
• Parts washer cleaning baths
• Surface finishing degreasing baths
• Spent metalworking fluids
• Die casting wastewater
• Vibratory finishing wastewater
Ultrafiltration System MODELS:
| | | | |
| --- | --- | --- | --- |
| System Specifications | UF- 1 x 3-500 |  UF- 1 x 7-1200 |  UF- 1 x 19-3200 |
|   Wastewater Feed | 500 USgal/day |  1200 USgal/day | 3200 USgal/day |
|   Process Tank Capacity | 100 USgal | 300 USgal | 750 USgal |
|   Settling Tank Capacity | 45 USgal | 100 USgal | 250 USgal |
|   Cleaning Tank Capacity | 45 USgal | 100 USgal | 250 USgal |
|   Circulation Pump Capacity | 50 USgal/min | 120 USgal/min | 325 USgal/min |
|   Pump Motor | 2 HP | 3.5 HP | 10 HP |
|   Membranes Quantities | 3 | 7 | 19 |
|   Amps @ 460V | 5 | 7.5 | 15 |
|   Dimensions | 60″W x 50″L x 75″H | 60″W x 100″L x 75″H | 60″W x 172″L x 75″H |
|   Weight | 500 lbs | 1200 lbs | 2500 lbs |
Over time, parts washer baths build-up with oil and sludge, exhausting the cleaning performance of the detergent. Quite of often the solution to the problem is, dump and recharge. Cleaning bath can be extended six-fold, and detergent costs can be cut in half. Our fully integrated systems are designed to operate unattended and require little maintenance.
Auto-Vac® Rotary Vacuum Drum Filter
The Auto-Vac® Rotary Vacuum Drum Precoat Filter is our flagship dewatering technology. The Auto-Vac® microfiltration design handles a wide range of volumes with various solids loadings. Its self-cleaning feature maintains consistent filtration rates without clogging, binding or bottlenecks.
An Auto-Vac® utilizes a liquid ring vacuum pump that pulls water through a precoat drum filter while sucking moisture out of the suspended solids. The inside of the drum is hollow; the outside consists of a wedge wire screen covered by a polypropylene cloth. The drum rotates in a trough [filter pan] where one-third is submerged in liquid and two-thirds are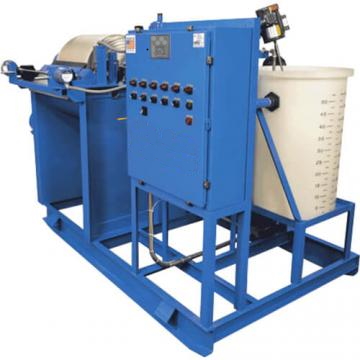 exposed to ambient air. When activated, and before filtration, the drum surface is coated with a filter aid "cake" of Diatomaceous Earth (DE) or Perlite. This consumable filter media is porous, allowing air and water to pass through while capturing micron size particles.
Once a full cake is built on the drum, the wastewater is pumped into the pan at a controlled rate. The vacuum sucks the water [liquid] through the drum and pumps it away. Suspended solids, precipitated metals, or de-emulsified fat, oil and grease larger than one-micron will accumulate on the filter cake surface. These solids will build with each revolution of the drum until the vacuum cannot draw any more water through. At this point, a stepping motor activates a variable speed knife blade that removes the top layer of solids with lathe-like precision. The knife also shaves off a slight amount of filter aid cake as it advances toward the drum; leaving a clean layer of media to grab more solids.
The drum size, filtration rate, dryness of solids and filter aid consumption varies with the characteristics of the incoming liquid.
Advantages of Auto-Vac® Technology
The Auto-Vac® is an industry-leading wastewater treatment system with benefits like:
Compact footprint: Auto-Vac® takes up less floor space, allowing you to devote more square footage to production.
Variable adjustments: You can easily change filter pan levels, drum drive speeds and knife speed.
Higher flow rates: The high suction, non-segmented drum and modification options support increased flows.
Versatility: The Auto-Vac® can handle multiple applications in various industries.
| | |
| --- | --- |
| The Auto-Vac dewaters sludges generated by: |  The Auto-Vac is ideal for cleaning up waste streams from: |
| » Ceramic Manufacturing | » Air Floating Units |
| » Porcelain & Enamel Fabrication | » Clarifiers |
| » Metal Plating & Finishing | » Wet Scrubbers |
| » Chemical Processing | » Flocculators |
| » Steel Mills | » Chemical Precipitation Systems |
| » Paint & Paint Processes | » Process Liquor Lines |
| » Pharmaceutical Manufacturing | » Paint Spray Booths |
| » Meat & Food Processing | |
| » Grease & Septic Haulers | |
| » as well as wash waters from numerous other applications | |
MICRO-KLEAN™ Plate & Frame filter Press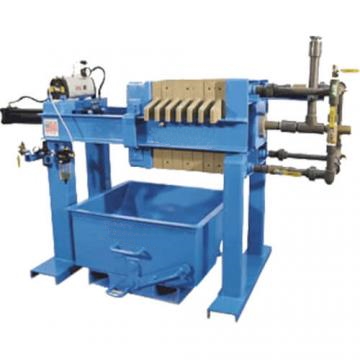 The Micro-Klean ™ is a robust plate-n-frame sludge dewatering filter press. This industrial liquid-solids separation system is built to handle a range of volumes with various solids loadings.
Plate and Frame Filter Principles
Filter presses work by separating liquids and solids by applying pressure. Slurry introduced to the filter press undergoes a high-pressure dewatering process. As pressure increases, the solids begin to collect in the chambers. A cake forms once the chambers are full to finish the process.
Advantages of Plate and Frame Filter Technology
Plate and frame filter presses have benefits like:
Easier maintenance with fewer parts.
High solid capture rates and operating capacities.
Durability.
Less energy usage.
Production of dry cakes that often meets stringent landfill disposal requirements.
The filter is pre-piped, solid steel welded carbon steel construction with a fully automatic OPEN/CLOSE hydraulic ram.
Each unit includes a manual reverse flush valve for tank and feed line, gasketed 630mm or 800mm polypropylene plates, and a carbon steel – forklift accessible – solids collection trough with roll-off handle/switch function.
Applications for Micro-Klean™ include:
Treating heavy metal wastewater.
Cleaning fat, oil and grease (FOG) wastewater.
Complying with solid waste reduction initiatives.
Micro-Klean™ delivers powerful solutions for industries like:
Oil and gas.
Surface cleaning and finishing.
Food and beverage.
General and specialized manufacturing
Why Partner With Advanced Deburring & Finishing
Advanced Deburring & Finishing gives customers a competitive edge through premium-quality wastewater cleaning machines and reduced lead times, and we've been doing it for over 38 years. Our team shares one common goal — to provide the industry's best surface cleaning and finishing equipment with market-leading expertise. We do this through a consultative approach to process development and efficient equipment customization.
Our team serves customers from our two locations in York, Pennsylvania, and Statesville, North Carolina. We proudly partner with a wide range of industries, including aerospace, transportation, automotive and general and specialized manufacturing. Connect with us today to discover how we can work together to boost your bottom line.
Advanced Deburring & Finishing contact the experts for water recovery and "Green" water treatment. Contact Advanced Deburring & Finishing for your Wastewater Cleaning System or view our other filtration and water recover systems here.