Precision cleaning techniques clean your parts and materials to keep contaminants well within their recommended limits. Many industries have specific cleaning requirements. You likely also have your own company standard for cleanliness. Parts washing and precision cleaning equipment will decontaminate your materials for manufacturing and usage.
We provide high-quality systems to meet your particular needs. Advanced Deburring & Finishing can help you improve your overall production with proper cleaning and finishing.
Why Is Precision Cleaning Necessary?
Precision cleaning works at a micro-level to remove contaminants from surfaces. Many industries measure contaminants in microns, which are minute units of measurement used in the metal finishing industry. Microns measure substances too small for units like inches or millimeters.
Precision cleaning removes contaminants so they become measurable only in microns. Proper cleaning keeps machinery and other items functioning correctly and prevents damage down the road. Thorough cleaning will improve your parts' quality and your reputation.
Some key examples of precision cleaning include:
Aircraft: Aircraft manufacturing relies on clean, finished metal for construction. Landing gears can develop cracks without proper cleaning.
Medical supplies: Medical implants and other devices must be contaminant-free to prevent infection.
Computer technology: Dust and other particles can interfere with internal hardware. Precision cleaning keeps all parts working smoothly.
Parts in these industries must be clean enough to pass inspections. With cleaning materials from Advanced Deburring & Finishing, you can trust your materials will adhere to industry regulations. Precision cleaning saves you time and money during production by ensuring all manufactured parts are clean and usable.
Precision Cleaning Considerations
Anything considered new-age and highly technical undergoes a certain level of precision cleaning. Precision cleaning is widely used because it increases usability and long-term safety for industrial technology. Depending on the material and the type of business you have, you may have to remove multiple types of contaminants from your surfaces.
Precision cleaning remedies two main types of contaminants:
Solid contaminants: Manufacturing procedures often produce fibers and other solid particles. These attach to the surface and can later cause problems if left uncleaned.
Residues: Residues are shapeless substances that cling to your material's surface. Oils and greases are the base for many residues.
If you want to begin precision cleaning for your business or need to replace your outdated precision cleaning mechanism, keep a few considerations in mind. Some questions you can ask yourself include:
How clean should the parts be at the end of production?
What standard are you using for your parts?
When will you inspect your parts?
In general, best practice is to inspect your parts before and after cleaning. You can check that your products are clean and ready for shipment after precision cleaning. To clean your parts effectively, you need an experienced company with suitable materials. Advanced Deburring & Finishing can help you get the ideal parts washer for your business.
Contact Us for Your Parts Washer
Parts Washing From Advanced Deburring & Finishing
Your greatest challenge is selecting a process that provides the required results time and time again.
For 35 years, Advanced Deburring & Finishing has provided its customers practical, profit-improving advice and counsel. This has led to significant numbers of successful parts cleaning system implementations. Representing the premier names in aqueous parts cleaning, vacuum vapor degreasing/cleaning and blast cleaning equipment, Advanced Deburring & Finishing's broad, hands-on application experience sets us apart from normal cleaning equipment suppliers.
Our Available Systems
If you want to improve part cleanliness and customer satisfaction, meet an environmental initiative or simply maintain your competitiveness, learn how systems from Advanced Deburring & Finishing have helped our clients capture more business, reduce costs of chemicals, increase production and improve quality.
We have a wide range of systems to suit all applicable industries and parts.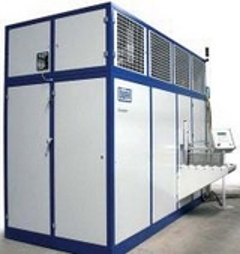 See More:
Get in Touch With Us Today
Precision cleaning is easier to do when you have the right materials and work with a knowledgeable company. To start your cleaning project, whether large or small, call Advanced Deburring & Finishing at 800-553-7060 (North and South Carolina at 800-944-9235) or contact us online.