Slurry blasting — also called "wet blasting" — is an especially valuable parts cleaning and preparation method, thanks to reduced dust and high performance. Advanced Deburring & Finishing carries superior-quality slurry blasting equipment to meet your business's parts-cleaning needs.
The Importance of Properly Cleaned and Prepared Surfaces
Parts cleaning and component surface preparation are vital to successful manufacturing for various reasons, including the following:
Finishing materials like powder coating and paints adhere better, preventing premature flaking, peeling or bubbling.
Companies experience lower customer rejection rates while meeting or exceeding high industry standards for cleanliness.
Products are more visually appealing and enjoy longer life without finishing failure.
Engines and assemblies featuring precision-cleaned parts are longer-lasting and more reliable.
Spinner Hanger Slurry Blaster
Patented slurry blasting technology, also known as "wet blasting," provides the ultimate parts cleaning performance within minutes. The system's innovative design uses a blast wheel to accelerate and discharge the abrasive slurry at a high velocity and in a controlled pattern to mechanically remove oxides, scale, carbon deposits, oils and grease from metal part surfaces.
The slurry blast can be applied safely to all types of metals and is excellent for use on aluminum and other white metal components. The abrasive slurry is composed of abrasive media combined with a hot water-based alkali cleaning solution to provide a very clean and smooth finished surface that's ready for coating, painting or remanufacturing operations.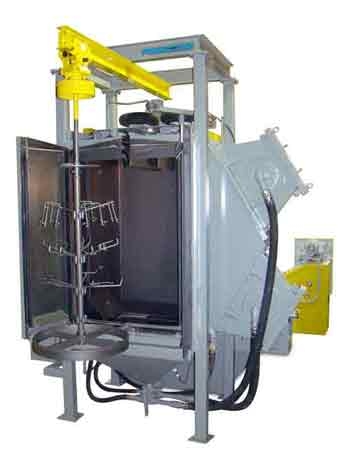 Spinner Hanger Slurry Blast System:
The Spinner Hanger Slurry Blaster is designed to automatically process a single large part or batches of parts of various sizes loaded on a custom-designed holding fixture. A hook rotates and reciprocates the loaded part and fixture back and forth to expose each surface to the cleaning solution and accelerate the abrasive slurry.
The combination of rotation and oscillation in front of the slurry blast pattern provides even and complete coverage of geometrically complex components. A programmable controller monitors the process and allows the selection of pre-programmed cycle times depending on the parts to be cleaned. Contact us for your Slurry Blaster today.
Contact Us for Your Slurry Blast System
Slurry Blast Process: Stages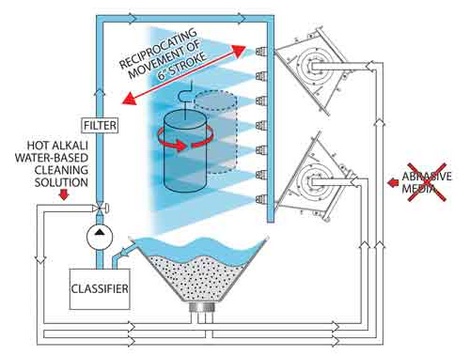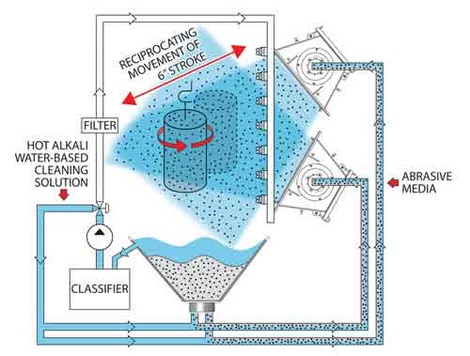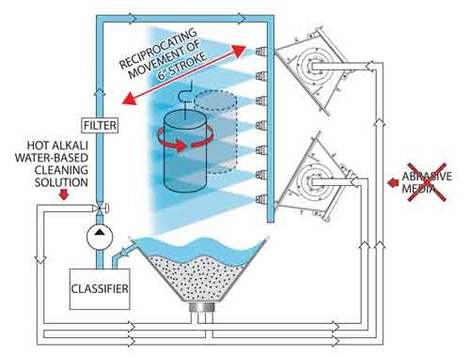 The advantages of SPINNER HANGER slurry blasting technology include:
No dust (and no need for a dust collector)
Does not require pre- and post-cleaning processes
Fast cycle times
A closed-loop process where both detergent and media are recycled
Does not require compressed air for blast motive force
Very clean and smooth with dust-free part surfaces
Can process wet, oily and greasy parts
One system to remove grease, blast, wet clean and prevent corrosion
Spinner Hanger Slurry Blasting Projects
Descaling
Removing rust
Stripping paint
Desanding
Ideal Parts for Spinner Hanger Slurry Blasting
Perforated parts
Structural steel
Automotive components
Gears and cogs
Castings
Forged metals
Transmissions, including shafts and rings
Standard Slurry tumble blast systems:
The tumble slurry blaster is designed to automatically process batches of parts of various sizes loaded in the barrel work mill. The barrel mill tumbles the part to expose all surfaces to the cleaning abrasive slurry. Parts are slurry blasted completely with a thoroughly controlled procedure.
Advantages of Our Slurry Tumble Blasting Equipment
Our high-quality slurry tumble blasting systems have features like:
Touchscreen control systems: Navigate easily and gain equipment insights with programmable controls and touchscreen functions.
Pre-programmed cycle options: Use any of the integrated cycles for one-touch operation.
Versatility: Perform all your cleaning operations, from degreasing to rust prevention, in one piece of robust equipment.
Cleanliness: Maintain healthier indoor air quality with dust-free operation.
Better parts protection: Get smooth surfaces and damage-free cleaning, even with finer blasting media.
Quicker cycles: Reduce the risk of heat warps with machinery that delivers results in minutes.
Slurry Tumble Blasting Capabilities
Slurry tumble blasting is ideal for removing:
Carbon.
Oils.
Grease.
Oxides.
Various other substances or manufacturing residues
Plus, the method is compatible with your most challenging parts, like:
Lightweight or thin metals.
Components with irregular surfaces.
Aluminum and similar white metals.
Applications Ideal for Slurry Blasting Methods
Slurry blasting is a powerful solution across various industries, such as:
Aerospace: Our equipment helps prepare and clean jet engine parts, landing gear components, launch vehicle engine pieces and more.
Automotive: Slurry blasters remove manufacturing residue from camshafts, drive blocs, mag wheels and more.
Engine rebuilding: Users rely on slurry blasting for precision cleaning before transmission and engine rebuilding.
Transportation manufacturing and maintenance: Slurry blasters help clean and prepare railway bearings, traction motors, locomotive axles and more.
Choose Advanced Deburring & Finishing for Slurry Blasting Systems
Parts manufacturers throughout the world have made Advanced Deburring & Finishing their trusted source because of our:
Experience: We've been a leading partner in parts cleaning and surface preparation solutions for over 38 years.
Expertise: As industry veterans, we draw on an in-depth knowledge base for process development and equipment modifications.
Commitment: Our team remains focused on a singular goal — an exceptional customer experience driven by superior equipment.
Approach: We view relationships with our customers as partnerships, valuing a consultative and collaborative approach to solving your parts-cleaning challenges the right way.
Value: Our team helps improve efficiencies, foster safety and create a competitive advantage for your plant.