FLUORESCENT PENETRANT INSPECTION (FPI)
Background
FPI (Fluorescent Penetrant Inspection) is a widely applied method used to locate surface-breaking defects in all non-porous materials (metals, plastics or ceramics). FPI is used to detect casting and forging defects, cracks, leaks in new products and fatigue cracks on in-service components.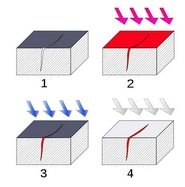 FPI is based upon capillary action, where low-surface-tension fluid penetrates into clean and dry surface-breaking discontinuities. FPI Fluorescent Penetrant may be applied to the test component by dipping, spraying or brushing. After adequate penetration time has been allowed, the excess penetrant is removed and a developer is applied. The developer helps to draw penetrant out of the flaw, where a visible indication becomes visible to the inspector. Inspection is performed under ultraviolet light.
This is the process to locate a section of material with a surface-breaking crack that is not visible to the naked eye:
Penetrant is applied to the surface.
Excess penetrant is removed.
A developer is applied, rendering the crack visible.