ROUND BOWL VIBRATORY MACHINES
"Vibratory Deburring" is also referred to by its original engineering term: "Mass Mechanical Surface Finishing." But what is it, and how do you get started?
Mass Mechanical Surface Finishing is the term for processing bulk quantities of parts simultaneously to generate a safe edge, radius or a specific RA or RMS surface profile.
Let us explore some of the more standard machines and methods.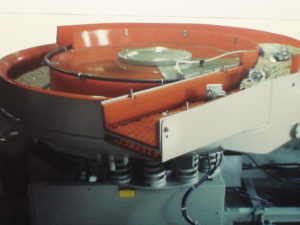 Contact Us for Your Round Bowl Vibratory Machine
WE SELL THE SYSTEM, INCLUDING ROUND BOWL VIBRATORy MACHINES
From running single parts, batch processes or continuous system setups for automatic production, versatility is here. Take advantage of internal separation of parts and media (media falls through screen openings and parts exit machines) and continuous setup for once-around-and-out applications where the part(s) need to be washed or Rust Preventative applied.
The Round Bowl can be set up with timers to automatically unload/separate while no operator is present.
Kinetic energy is the driver for the action or motion in the bowl, with roll and progression. This is from the machine vibratory assembly (motor, shaft and bearings). The round bowl splits the energy two ways: roll and progression. This is all adjustable depending on the process and results required.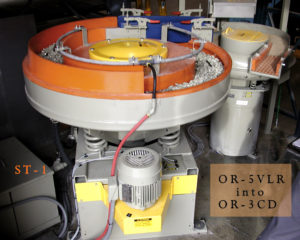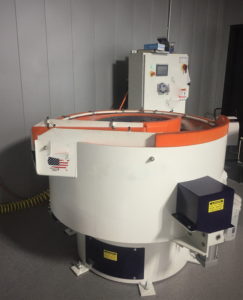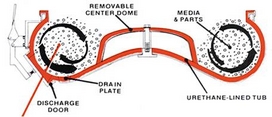 No matter the style of vibratory deburring equipment, the more you see the parts, the less work is being done. Burr removal is critically important because it directly affects the performance and reliability of the parts.
Round bowl units run a more gentle process for a finer surface profile and can eliminate scratches due to part on part contact like in the tub style.
The rotation of mass is set up through the aggression of the process. Progression is used for gentler processes and needed for good internal separation. We recommend using a sample part processing to find the right rotation. There are many variables with tumbling media, part sizing and screening.
Styles of Round Bowl Vibratory Deburring Machines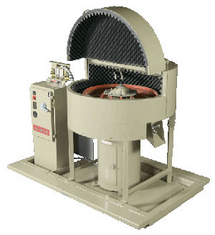 HIGH-ENERGY ROUND BOWLS FOR FASTER TIME CYCLES AND UNLOADING ADVANTAGES
Almco offers a High-Energy (HE) Bowl Series featuring shorter cycle times and increased action when production dictates. "HE" Series bowls have design efficiencies and multiple advantages:
High-impact vibration with increased amplitude control of both upper and lower counterweights
Two-dimensional control of both impact stroke and mass progression
New concept "Mass Roll" with strategic parts positioning
Parts/media unloading efficiency via high-energy mass rotation and action
Steel media parts processing and unloading capability
SBB Spiral Bottom Vibratory Finishing Bowl
Helical-bottom designed processing tub
8, 12 and 24 cu. ft. capacities
Extended separation deck
Plastic, ceramic and steel media process capable
LONG RADIUS BOWL VIBRATORY FINISHING MACHINE
Choose Continuous or Once-Around-And-Out parts flow
Reduced cross-section channel size for quick 200% unloading with no assistance
Complete machine with all features
Stackable for multiple processes running from one machine to another automatically
Critical parts and tight tolerances
No part-on-part contact
We have you covered with an individualized compartment divider assembly.
The OR- is one of the most versatile round bowl vibratory machines on the market, featuring a formidable combination of batch processing, internal separation and a removable center dome for larger parts and divider assemblies. All of these features make it a reliable and efficient system part of one great machine/system.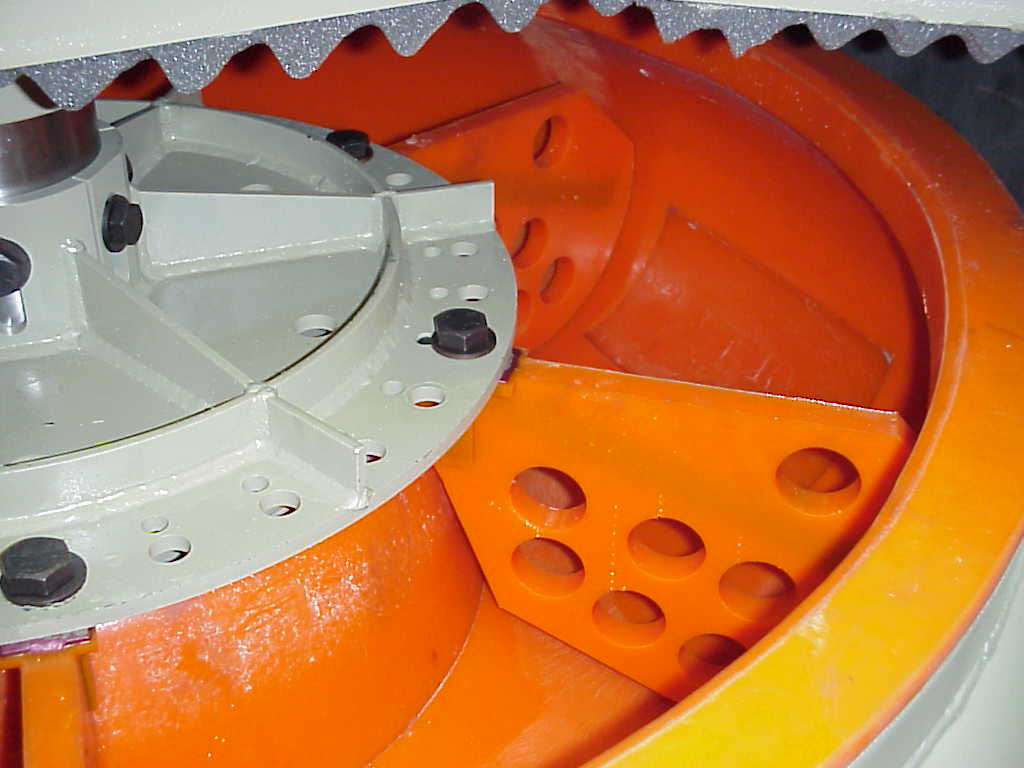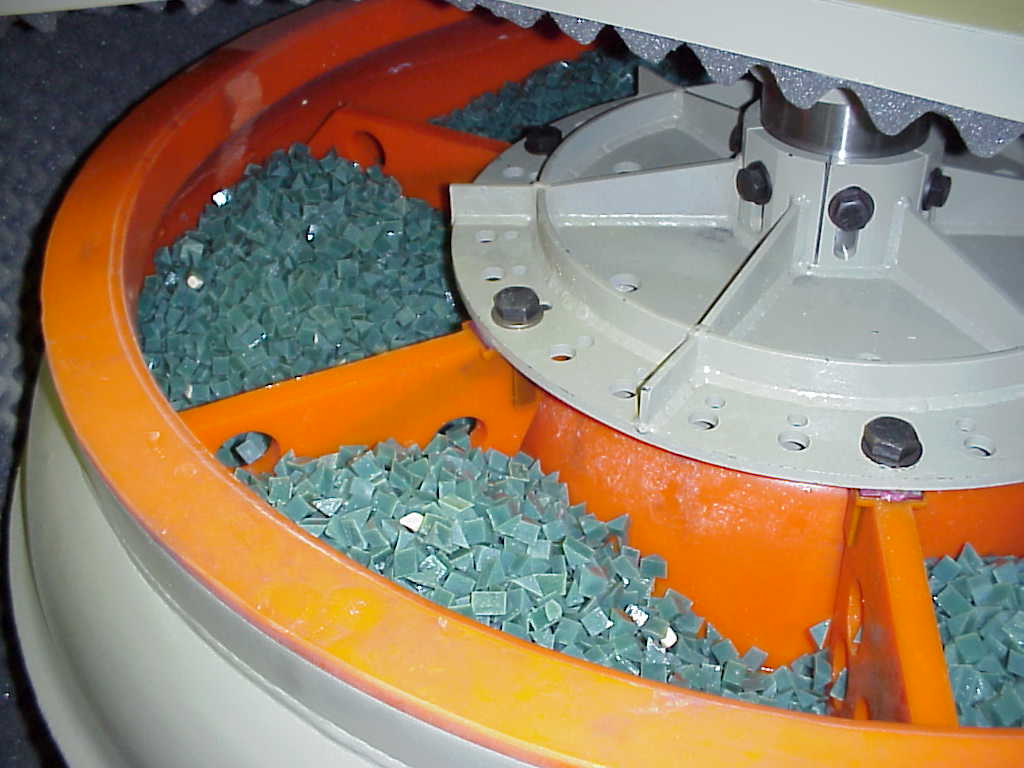 Bearing Hub Type
Rotating Divider Assembly
Contact Advanced Deburring & Finishing's expert team today!
Contact Us Give Us A Call