ROUND BOWL VIBRATORY MACHINES
"Vibratory Deburring" is also referred to by its original engineering term: "Mass Mechanical Surface Finishing." But what is it, and how do you get started?
Mass Mechanical Surface Finishing is the term for processing bulk quantities of parts simultaneously to generate a safe edge, radius or a specific RA or RMS surface profile.
Let us explore some of the more standard machines and methods.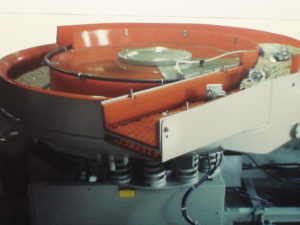 Contact Us for Your Round Bowl Vibratory Machine
WE SELL THE SYSTEM, INCLUDING ROUND BOWL VIBRATORy MACHINES
From running single parts, batch processes or continuous system setups for automatic production, versatility is here. Take advantage of internal separation of parts and media (media falls through screen openings and parts exit machines) and continuous setup for once-around-and-out applications where the part(s) need to be washed or Rust Preventative applied.
The Round Bowl can be set up with timers to automatically unload/separate while no operator is present.
Kinetic energy is the driver for the action or motion in the bowl, with roll and progression. This is from the machine vibratory assembly (motor, shaft and bearings). The round bowl splits the energy two ways: roll and progression. This is all adjustable depending on the process and results required.