Typhoon HD Heavy-Duty Turntable Spray Washers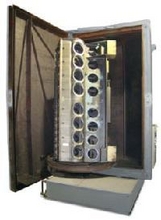 Typhoon HD turntable spray cabinet washers are designed to clean large parts placed directly on a retractable turntable or batches of small parts loaded in baskets. This heavy-duty industrial parts washer combines pressure, heat and aqueous cleaning solution to clean and degrease your parts to spec within minutes. Other processes such as surface treatment and phosphating can also be performed in this solution.
Typhoon HD's design features a large solution tank volume to reduce the likelihood of foaming due to reduced agitation by pumping action, and to help to settle contamination. This also reduces the tank clean-out frequency. Many other design features such as low-maintenance pumps, digital temperature controllers, and cycle timers are standard on turntable parts washers. These cabinet washers can also be easily customized by adding needed features selected from over 40 pre-engineered options.
The Typhoon HD model is available in a single or multi-stage configuration, integrating up to 4 independent recirculated stages. Each recirculated stage has a dedicated tank, heating system, circulation pump, cycle controls and spray manifolds in the main spray cabinet.
Typhoon HD is an ideal aqueous parts washer for in-process and final cleaning in maintenance, manufacturing and re-manufacturing applications.