Front Loading / Top Loading Cabinet Spray Washers
Are you manually cleaning your various parts in an old scrub tub? Small automatic spray washers can save your hands, cut down on noise, and save time and money:
Place your part on a turntable and let it
spin while getting clean.
Top-loading machines are perfect for cellular station cleaning in a manufacturing work cell.
Small footprint for highly valued floor space.
Top loaders from 21″ to 120″ in diameter.
Weight capacities from 500 to 5,000 lbs. Multi-stage blow-off. Vertical pumps, filters and sprocket drive systems.
360-degree spray patterns with special manifold and nozzle setup depending on parts to be processed.
Contact Us for a Cabinet Spray Washer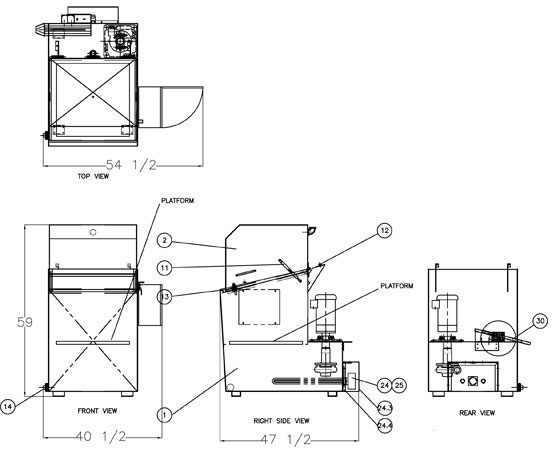 | Model | Diameter | Work Height | Load | Gallons |
| --- | --- | --- | --- | --- |
| TL-21 | 21" | 18" | 500lbs. | 32 @ 42psi/24gpm |
| TL-31 | 31" | 32" | 1000lbs. | 125 @ 52psi/35gpm |
| TL-42 | 42" | 36" | 1500lbs. | 220 @ 75psi/120gpm |
| TL-60 | 60" | 36" | 1500lbs. | 32 @ 75psi/200gpm |