Your parts can have many types of debris on them, including:
Oil.
Carbon.
Grease.
Soap.
Dust.
Particles.
Coolant.
If your parts have any debris, the grime needs to be thoroughly and properly removed. A clean part has an optimal surface for bonding, so paint and coatings will last longer and look great. Without cleaning, the coating could bubble and flake off shortly after application.
Advanced Deburring & Finishing has the cabinet spray washer equipment you need to remove debris from your parts for cleaning and restoration. Read more about our available models and contact us today.
What Is a Cabinet Spray Washer?
A cabinet spray washer is a cabinet loaded with gallons of water and a cleaning solution. With high-quality cabinet spray washers, you can quickly and effectively clean your parts. The high-pressure heated water-based spray removes deposits within minutes without damaging the part.
Here is how to clean parts with a cabinet spray washer:
Place your part on a turntable, basket or parts tree, depending on what your model has.
Close and latch the door, then set your wash cycle.
The cleaning solution will blast at the part from all sides to remove the debris in minutes. Let the turntable spin so it can get the parts clean.
When the wash cycle is complete, unload them for a quick flash dry.
Front Loading / Top Loading Cabinet Spray Washers
Are you manually cleaning your various parts in an old scrub tub? Small automatic spray washers can save your hands, cut down on noise, and save time and money:
Top-loading machines are perfect for cellular station cleaning in a manufacturing work cell.
Small footprint for highly valued floor space.
Top loaders from 21 inches to 120 inches in diameter.
Weight capacities from 500 to 5,000 lbs. Multi-stage blow-off. Vertical pumps, filters and sprocket drive systems.
360-degree spray patterns with special manifold and nozzle setup depending on parts to be processed.
Contact Us for a Cabinet Spray Washer
Below is a diagram of our cabinet spray washers, specifications for the different models and pictures of our washers. Browse this information to understand which model you need.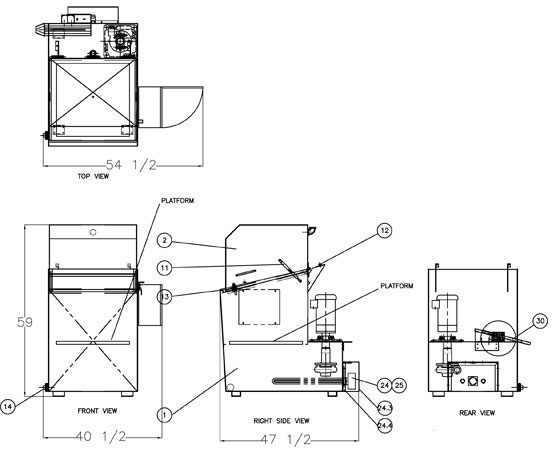 | Model | Diameter | Work Height | Load | Gallons |
| --- | --- | --- | --- | --- |
| TL-21 | 21" | 18" | 500lbs. | 32 @ 42psi/24gpm |
| TL-31 | 31" | 32" | 1000lbs. | 125 @ 52psi/35gpm |
| TL-42 | 42" | 36" | 1500lbs. | 220 @ 75psi/120gpm |
| TL-60 | 60" | 36" | 1500lbs. | 32 @ 75psi/200gpm |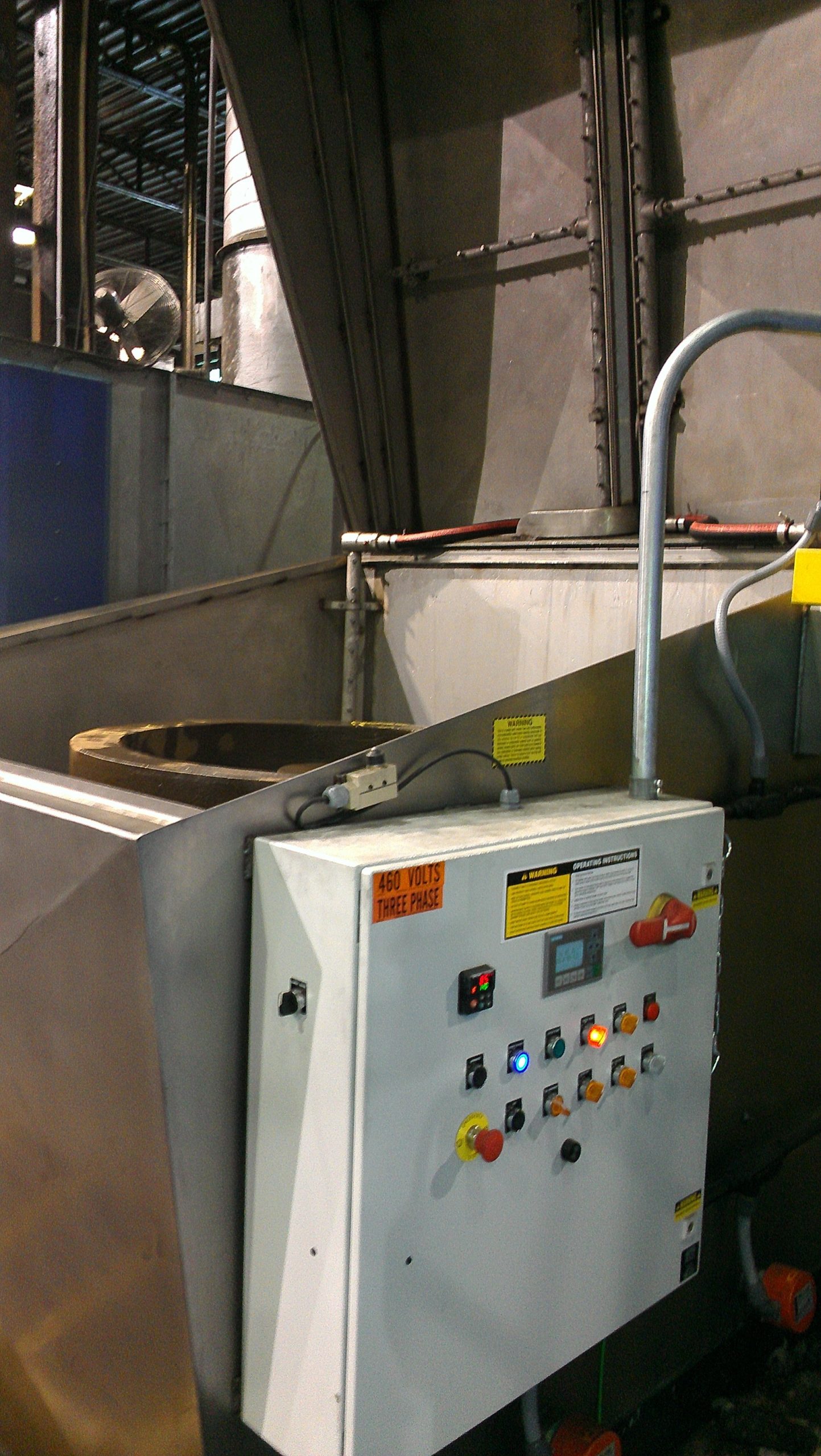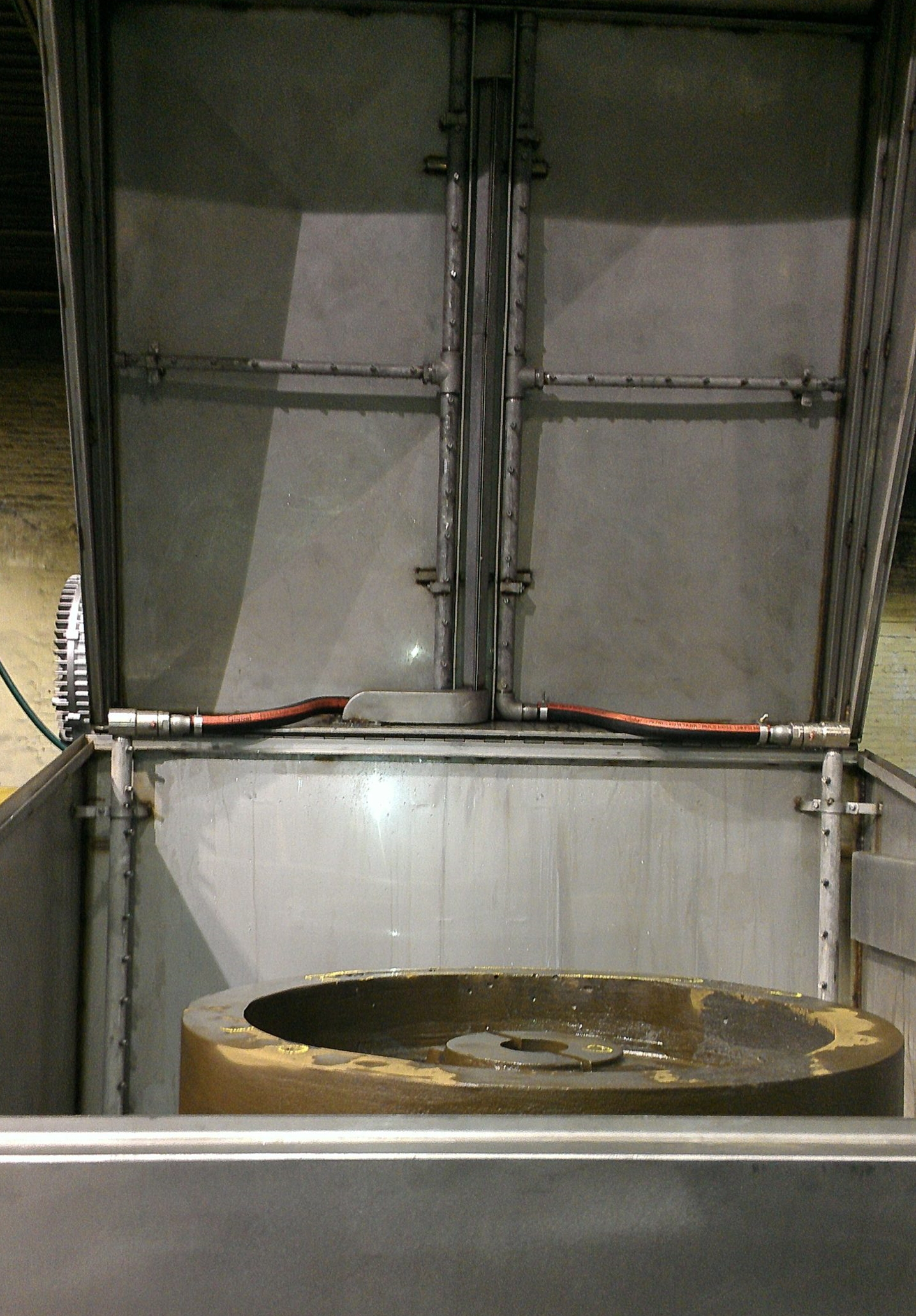 FRONT-LOAD MODEL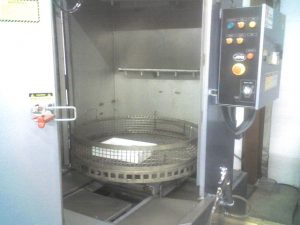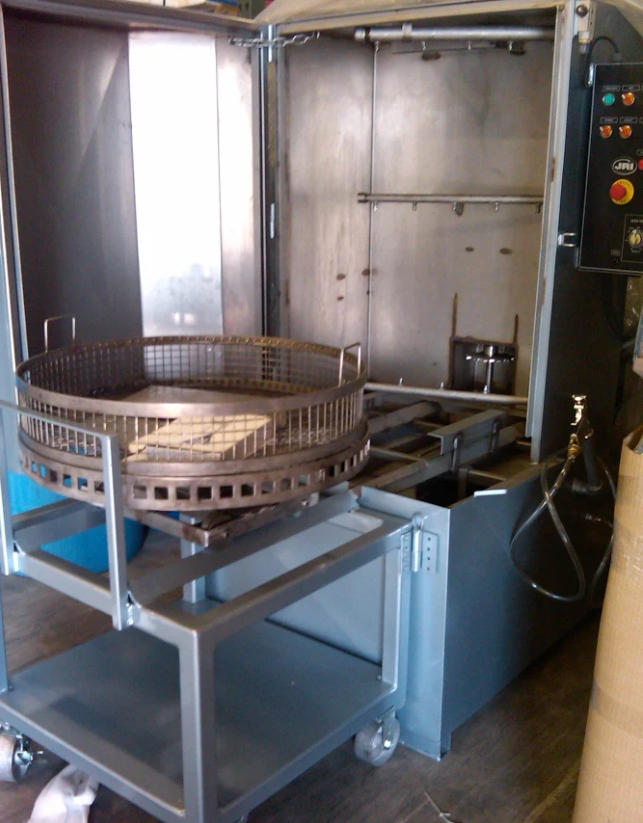 The front-load model is perfect for the small remanufacturing of engine parts, no matter what size your shop is. For larger-sized engines, large housings can remove some of the work greases and oils.
These machines are sized with limited floor space in mind. They are small and compact without sacrificing functionality.
We offer standard configurations along with specialty machines built for a specific part, whether it needs a fixture, increased pump cleaning capacities or to run at higher temperatures for remanufacturing applications.
Rollout turntables are very nice for ease-of-loading and unloading, either manually or via hoist.
Spray patterns at 360 degrees with independent manifolds for each process. Swing away mid-level spray bars can help with lower-height parts and/or adding cleaning.
Standard units are available from 25 inches to 120 inches in diameter.
Watch the video below to see one of our cabinet spray washers in action. Below the video is a table of specifications for front-loading cabinet spray washers.
| Model | Diameter | Height | Load | Gallons |
| --- | --- | --- | --- | --- |
| PCS-3136 | 31" | 36" | 1000lbs. | 140 @ 80psi/85gpm |
| PCS-3642 | 36" | 42" | 1500lbs. | 180 @ 80psi/85gpm |
| PCS-5060 | 50" | 60" | 1500lbs. | 330 @ 75psi/200gpm |
Double Door Pass Thru Cabinet
We also have cabinet spray washers that have double doors. The operator puts the parts in one door, and they will come out the other door when the wash cycle is complete. View the pictures below of our double door pass thru spray washer models.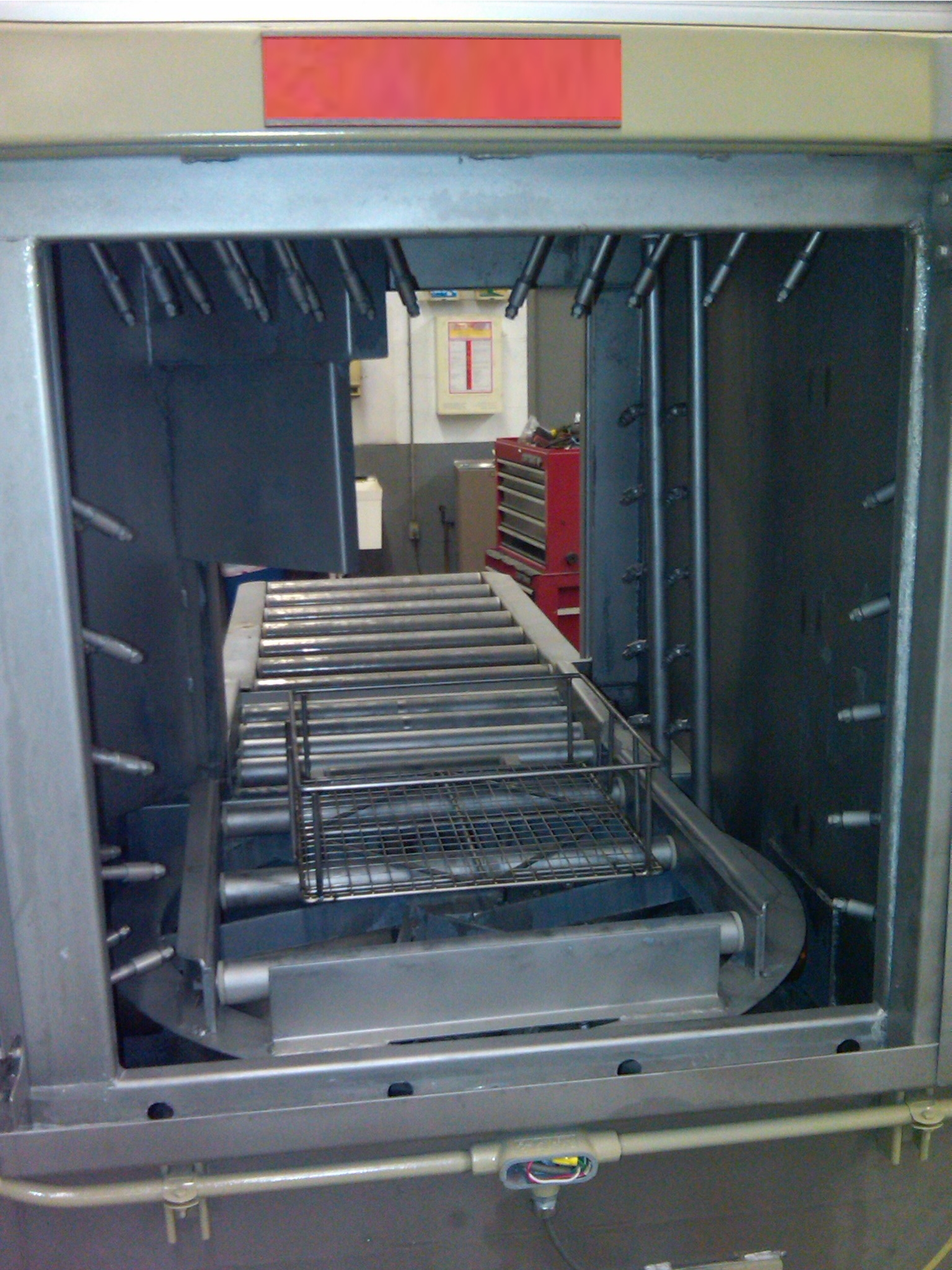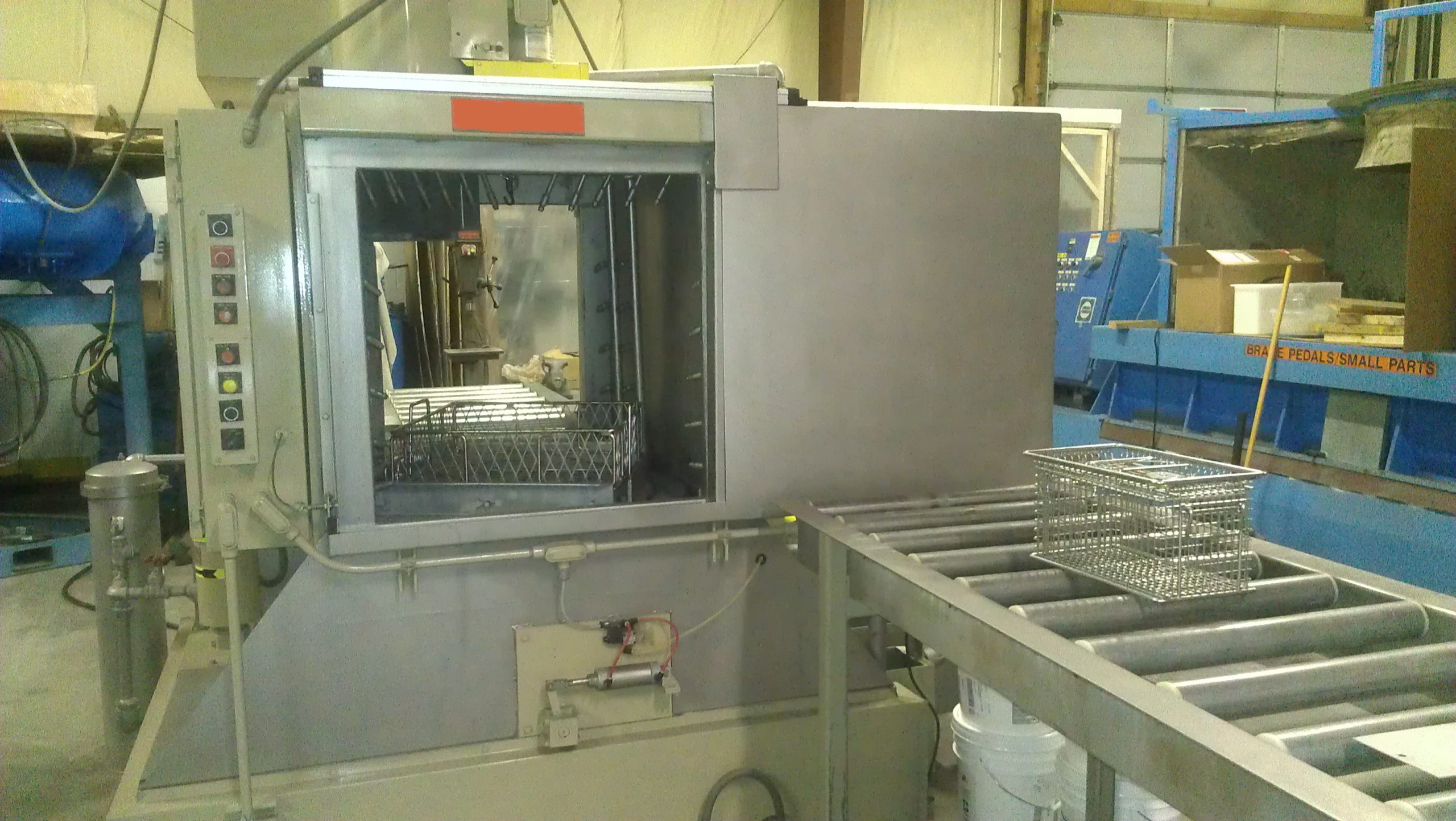 Cabinet Spray Washer With 360° Rotation in Combination With Immersion & Spray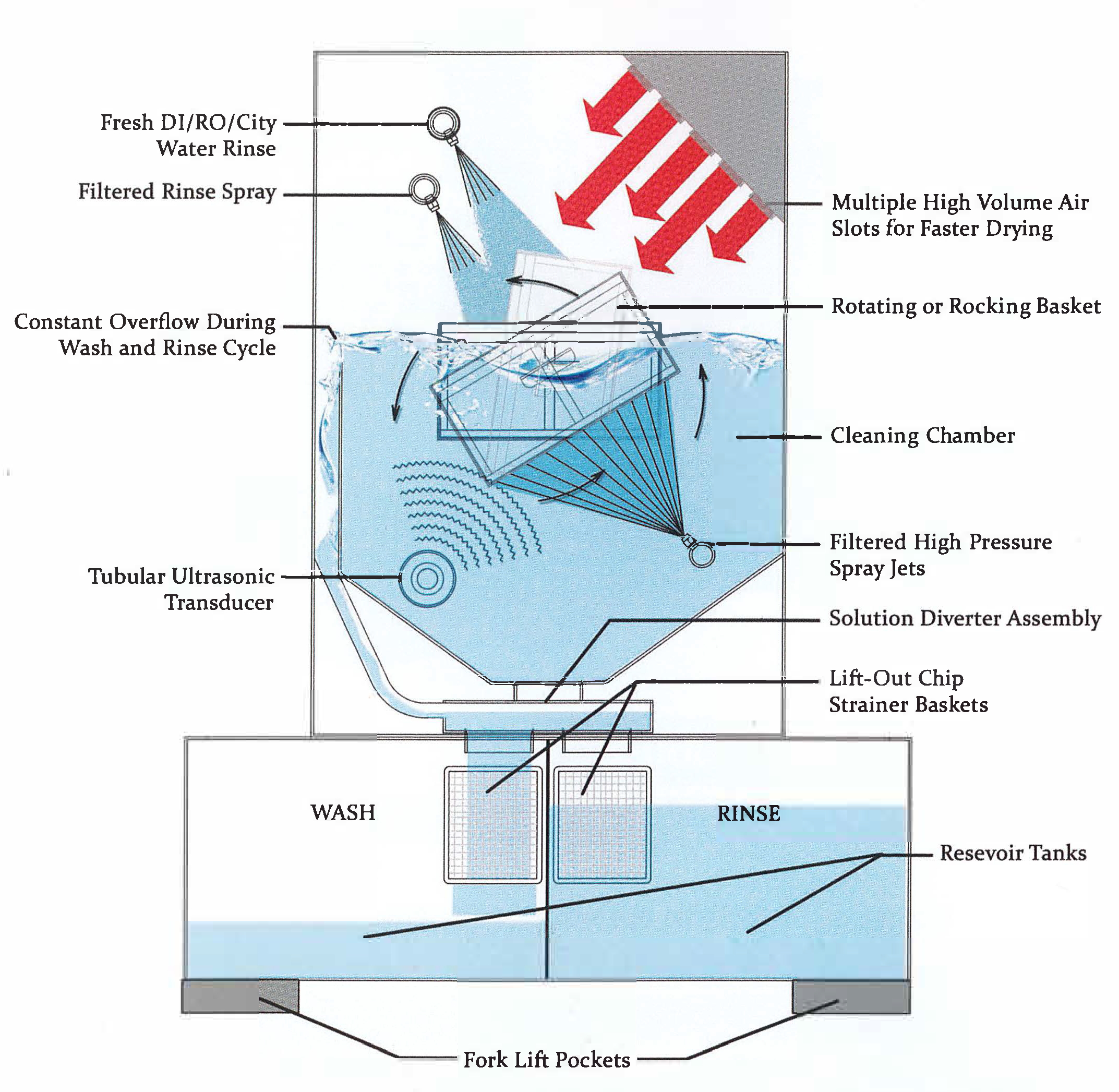 Lean Clean is a very unique washer built and designed for special bulk or batch cleaning of various parts. Screw machine parts are a great example. This cabinet spray washer's ability to submerge baskets while simultaneously rotating and spraying them with high-pressure and high-volume cleaning and/or rinsing solutions is very process- and part-oriented for achieving maximum results. Examine the diagram above to see how this process works in the Lean Clean cabinet spray washer.
All of these actions can happen at one time or be individually programmed, but the result is the best possible cleaning of complex-shaped parts by penetrating blind holds and cavities. Filtering and oil skimming are always essential for the best process with a continued quality of finish. Ultrasonics provide increased precision and effectiveness.
Basket sizes: 12 inches x 20 inches x 6 inches
One to eight baskets in the main carrier
Many features and stages of processing are available
Programmable logic controller (PLC) and human-machine interface (HMI) control interface
Sample part testing is always valuable with processing and machinery verification prior to a purchase to ensure you achieve your expectations and goals.
Reasons to Partner With Advanced Deburring & Finishing
Advanced Deburring & Finishing has more than 38 years of experience with parts precision cleaning equipment. We will use our expertise in finishing systems to solve your surface cleaning and finishing problems. Our team offers consultations for equipment modifications and process development to improve your efficiency. When you partner with us, you can improve your bottom line and the finish quality of your parts.
Our headquarters are in York, Pennsylvania, and we also have an office in Statesville, North Carolina, for our southern customers. We serve a wide range of industries, including:
General manufacturing.
Medical manufacturing.
Transportation.
Contact Us About High-Quality Cabinet Spray Washers Today
Advanced Deburring & Finishing has the equipment you need for parts precision cleaning, surface finishing and water filtration. We partner with the finishing industry's top manufacturers to give you the best products and services. We strive to meet your precise requirements and specifications, regardless of how complex they may be.
Contact Advanced Deburring & Finishing to learn more about our high-quality cabinet spray washers.