Settling is a process during which particles settle at the bottom of a liquid and create sediment. From there, the sediment can be removed so the liquid can be used for other processes. The basin where the flow is stopped for this separation to happen is called a settling tank or settling unit. In settling units, the tank stores water for an amount of time to remove the particles.
At Advanced Deburring & Finishing, we have recirculatory sediment tanks that will remove sediment and debris from liquid coatings to enhance the product's quality. Learn more about our available models and contact us today.
What Is a Four-Stage Recirculatory Sediment Tank?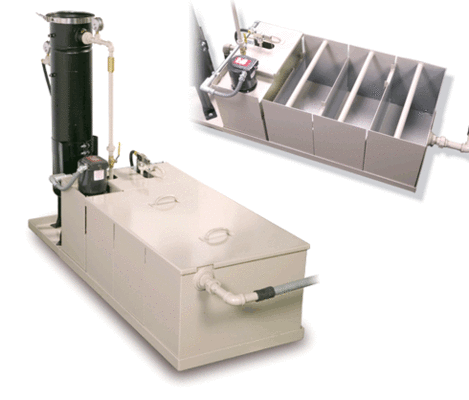 Liquid finishing solution — or liquid coating — is a durable coating used in general manufacturing applications to protect equipment. Mix equipment, pumps, applicators and meters apply the coating and provide a consistent finish when the liquid solution has had debris filtered out. This filtering needs to occur to make sure the liquid solution applies correctly.
A four-stage recirculatory sediment tank allows the solid materials in the mixture to discharge through a drain. The machine may also have a pump that recirculates the liquid to the finishing machine, which is more cost-effective than drain discharge.
Contact Us for Your Settling Unit
Our Model ST-4 Settling Unit
Advanced Deburring & Finishing offers the Model ST-4 four-stage recirculatory sediment tank as one of our settling units. The basic approximate dimensions are 67″ long x 24″ wide x 51″ high.
The tank receives liquid finishing solutions from the tub of the machine and allows solids to settle out of the solution before the liquid is discharged to the drain.
The key features of this settling unit include:
Robust 70-gallon capacity: The capacity of this model is midrange to fit high liquid volumes.
Removable sediment tanks: The sediment tanks can be removed to dispose of the debris.
1/6 horsepower transfer pump: The transfer pump uses 1/6 horsepower to recirculate the liquid finishing solution through the machine.
Bag filtration feature: The bag filtration system in this settling unit is made from mild steel or stainless steel and uses a Model LCO-8 floor-mounted bag filter or similar model. It houses one filter bag with a 50-micron rating, and there are other micron ratings available. The unit uses internal baffles to trap solids and oils.
Connection ports: The Model ST-4 settling unit has connection ports for incoming fluid and drains for compartments. There is also an option for quick disconnect fittings.
Pressure gauges: The unit also includes inlet and outlet pressure gauges for filter monitoring.
Stainless steel plumbing: The plumbing is made with stainless steel for durability and corrosion resistance.
Carbon steel housing: The unit has an oversized housing that requires the filter to be changed out less frequently. It's piped between the recirculatory tank or other machine and the compound pump.
Portable option: The Model ST-4 unit is fitted with caster wheels for mobility.
The Value of Partnering With Advanced Deburring & Finishing
For more than 38 years, Advanced Deburring & Finishing has helped customers become more competitive by improving quality and reducing lead times. Our goal is to solve your surface cleaning and finishing requirements using our expertise in finishing systems. Our team offers consultations on process development and equipment modifications for efficiency to improve your bottom line.
We serve a wide range of industries — including medical manufacturing, aerospace, transportation, automotive and general manufacturing — from our headquarters in York, Pennsylvania, and office in Statesville, North Carolina. We have the equipment you need and the expertise you can count on.
Learn More About Our Settling Units
These settling units and a wide variety of other value-adding equipment can be yours when you reach out to Advanced Deburring & Finishing. We have products for filtration and water recovery as well as ultrasonic cleaning, blast systems and surface refinement. We also work with premiere deburring and parts cleaning manufacturers to provide parts free of debris, dust and particles. As a result, your paints and coatings will have a better bonding surface and will last longer.
Get in touch today for more information about our recirculatory sediment tank and other settling units.