REDUCE YOUR WASTEWATER STREAM UP TO 98% AND RECOVER PROCESS WATER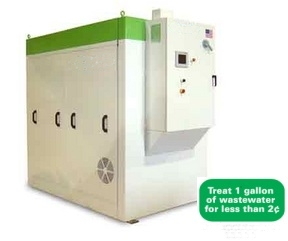 The Mechanical Vapor Recompression (MVR) evaporator is engineered to separate waste from water through distillation. This water reclamation system reclaims up to 98% of your wastewater as clean water that can be reused in your industrial processes. The remaining residual waste is collected in a concentrate for disposal. As a result, this system substantially reduces your wastewater disposal costs and minimizes your environmental footprint.
The Advantages of Water Reclamation Systems
Recycling contaminated water with an MVR evaporator lowers energy and water consumption. It also reduces overhead costs once the return on investment is met, which typically doesn't take a long time, especially if your plant uses large volumes of water and produces significant amounts of wastewater.
Lowered Energy Consumption
One of the main advantages of the MVR is its low energy consumption,
Evaporation naturally occurs when heat is applied. But, the MVR evaporates the wastewater under a vacuum without heat sources such as electric heaters, gas burners or steam. The MVR's vacuum chamber also accelerates the natural evaporation process for optimal efficiency.
In addition, since no cooling water is required for the vapor condensation process, your cost savings are even greater.
MVR evaporators are at their best when evaporating large quantities of dilute solutions such as metalworking fluids and rinse waters common to surface treatment parts washing or fluorescent penetrant inspection lines (FPI). Depending on the byproduct, you can recover raw materials from your wastewater for reuse.
Contact Us for Your Water Reclamation Systems
Reduced Water Consumption
The  MVR evaporator in the most cost-effective water reclamation system and the best solution to treat your process wastewater.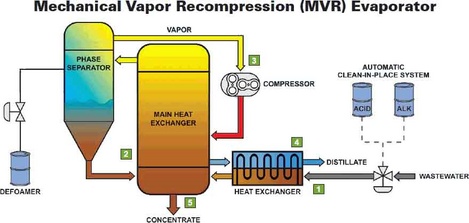 MVR evaporators are crucial for companies that want to prioritize Zero Liquid Discharge (ZLD) or produce a large volume of industrial wastewater. Overall, they're great for a wide range of industries looking for an economical way to lower water waste, including these sectors:
Pharmaceutical
Cosmetics
Electric utility
Mining
Oil and gas
Wastewater
Laboratories
Biotech
Food and beverage
Aerospace
Solar
Environmentally Friendly
In addition to reducing overhead costs from water and energy consumption, environmentally sustainable operations have the potential to drive revenue, too.
Reducing your carbon footprint will make your products or services more marketable to environmentally conscious customers.
 Applications
 Features    

Surface Treatment Rinse Water
FPI Rinse Water
Parts Washing
Die Casting Wastewater
Oily Emulsions
Ink Wastes/Recovery
Metalworking Fluids
Concentrate from Membrane Filtration

PLC Controlled – Runs Unattended
Few Moving Parts – No Membranes
Efficient Vapor Compression Technology
Uses No Electric or Steam Heat Resources
Automatic Periodic Blow-Down
Efficient Vapor Compression Technology
Compact, Portable Easy to Install

 Benefits
 Models

Low Energy Consumption – 0.25kWh/gal
Low Operating Costs
Low Maintenance
High Water Recovery Rate – Up To 98%
Closed Loop System – No Air Permits
Waste Concentrated in Sludge
Concentration Up to 400.=,000 mg/L

| | | |
| --- | --- | --- |
| Models | *Daily Production | Motor Power  |
| ES 400 | 400 | 10 |
| ES 800 | 800 | 20 |
| ES 1500 | 1500 | 30 |
| ES 3200 | 3200 | 75 |
| ES 6000 | 6000 | 125 |
| 115000 | 11500 | 200 |

BEFORE and AFTER dye penetrant rinse water


BEFORE and AFTER mold releasing agent

The MVR uses a compressor to increase the pressure of the steam produced. An increase in pressure also increases the condensation temperature of the steam, rendering it usable to heat the original mixture in a heat exchanger. It is this resulting temperature difference produced by compressing steam that enables a highly efficient heat transfer to occur.
As the steam condenses in the heating chamber, it releases its latent heat through vaporization to further heat the original mixture, which in turn produces more steam.
Principle of Operation
Incoming waste water is pre-heated by the heat available in the distillate being produced.
The waste water evaporates under a partial vacuum in the main heat exchanger.
The evaporate (steam) is compressed and returned to the main heat exchanger, where it is condensed. This releases all of the latent heat back into the system.
The condensate is released in the form of a high-quality distillate, ready for re-use or disposal.
The waste water undergoes continuous concentration to a minimum level, where it is then ejected for waste disposal.
Why Partner With Advanced Deburring and Finishing?
At Advanced Deburring and Finishing, we'll help you improve throughput and reduce your overall water and energy consumption. Learn more about the core benefits of working with our experts:
Reliability: Companies have relied on our experienced team at Advanced Deburring and Finishing for more than 38 years. We help businesses increase uptime by providing the most reliable and advanced equipment and machinery available.
Expertise: We're experts at what we do. We have a reputation for excellence and accuracy. Whatever your industry, our experts are committed to finding the surface finishing and cleaning system solutions right for your industrial applications.
Advanced technology: We have our finger on the pulse of the latest in technology. We're committed to streamlining our customers' efficiency by consistently researching the newest technologies — with the ultimate goal of reducing overhead costs and improving bottom lines.
Contact Advanced Deburring and Finishing Today for Your MVR Evaporators
Water and energy conservation are crucial for a company's bottom line, whether a large volume of industrial wastewater is produced or not. All manufacturing and industrial facilities can benefit from reducing their water and energy expenditures.
At Advanced Deburring and Finishing, we offer turnkey and low-maintenance MVRs for the most high-quality machines of their kind on the market. Our systems are durable, efficient and cost-effective for all industrial applications and sectors.
With the aid of an MVR evaporator, we'll help you recycle upward of 98% of your wastewater so you can invest your cost savings elsewhere.
Contact us today to learn more about our MVR evaporators or request a quote!