Precision Cleaning
Advanced Deburring & Finishing is proud to offer a family of precision cleaning systems to answer the industry's needs for solvent-level cleaning solutions without environmental complications. This solution utilizes non-chlorinated hydrocarbons in a closed-loop system to provide superior results with virtually no emissions.
This leading-edge technology was developed in Germany to satisfy stringent European regulations making the use of chlorinated solvents impractical. The technology, first introduced in Europe in 1995, has gained considerable recognition after numerous successful installations. Systems have been sold and installed in the United States, primarily replacing cleaning systems that failed to meet the process requirements after customers were forced to transition away from conventional solvent solutions due to costs and risks related to environmental issues.
The system incorporates a number of unique features. Some of these features are common across this entire family of cleaning products, which include aqueous cleaning systems as well. All of the systems in this family of products are built as self-contained, compact units, minimizing installation costs.
Contact Us for Your Precision Cleaning Systems
All machines utilize a high degree of stainless steel, not only in tanks and chambers but also in components such as valves and pumps. All units incorporate a single cleaning chamber that facilitates complete submersion of the component(s). High-pressure pumps offer Injection Flood Wash circulation options. Vacuum drying and ultrasonic cleaning are available in all units in this family.
User-defined part rotation from 10 degrees to 360 degrees is also standard in all units with part-specific process recipes stored and retrieved via a friendly Man-Machine Interface.
Complete process flexibility is configurable via these recipes. Both aqueous and solvent-based systems are available with closed-loop solution circulation systems for emissions-free operation.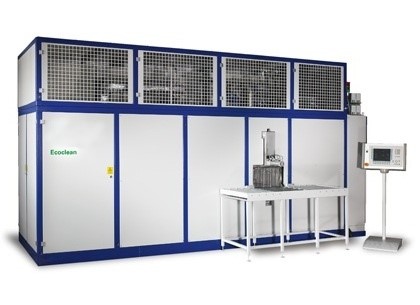 The non-chlorinated hydrocarbon units utilize a distillation system that continuously circulates the solvent. The solvent is evaporated and reclaimed to provide complete separation of contaminants. Contaminants are accumulated in an easy-to-clean container for proper disposal. Vapor degreasing can also be done in this single-chamber system.
A typical cleaning cycle follows this pattern:
1. Load part and close chamber door
2. Evacuate air from the chamber
3. Submerge, rotate 120 degrees with oscillation and Injection Flood Wash circulation
4. Empty chamber and draw vacuum
5. Vapor degrease
6. Vacuum dry
7. Backfill chamber with plant air
8. Open door.
Other significant benefits of this non-chlorinated hydrocarbon system are its inherent flexibility to process a wide range of materials without complicated chemistry modifications. Additionally, for materials such as brass that leave lead byproducts in aqueous-based cleaning systems necessitating the regulated disposal of the wastewater, this system can offer considerable savings.
When compared to conventional aqueous precision cleaning systems, this system typically utilizes 60% less energy, requires less maintenance, handles higher oil loading levels and provides superior cleanliness and spot-free results continuously.